New Yorkers rally for the return of kidnapped Nigerian girls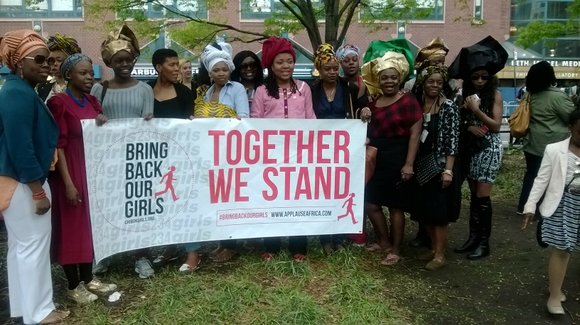 In Union Square last Saturday, May 3, hundreds of men, women and children took up the clarion call echoed in sister rallies in Philadelphia and Oakland, Calif. A rally for the legalization of marijuana on the other part of Union Square was loud, but it was no match for the moral landslide that was the "Bring Our Girls Home" campaign.
Geles, beautiful head-ties with symbolic prints and patterns, adorned the heads of rallying women from Lagos to London and Manhattan to D.C., as they demanded the return of 200-plus boarding school girls snatched in Chibok, Borno State, Nigeria, by the notorious Boko Haram. The callous leaders have boasted that they have already sold some of the girls for $12 as child brides in Cameroon and Chad.
Frustration and anger at what seems to have been the absence of a forceful response, search and recovery has been inspiring the "Bring Our Girls Home" campaign.
After almost three weeks, Nigerian President Goodluck Jonathan finally spoke on the issue this week. In a televised address, he said, "Wherever these girls are, we'll get them out." This was as he announced a fact-finding committee to investigate the April 14 kidnapping. The Nigerian government has offered a $300,000 reward to get these girls home.
"Three weeks on now and no clue yet as to the whereabouts and fate of the missing girls. Depressing! Upsetting! Demoralizing!" said Abike Dabiri-Erewa, chairperson of Nigeria's House of Representatives Committee on Diaspora Affairs.
She told the AmNews, "The federal government's response has been slow and unreassuring. I have always insisted that Nigeria should seek help of experts who can offer needed assistance, especially in the area of intelligence gathering. How more than 200 girls could have been driven away in an environment where there is a strong security presence [because of the declared state of emergency] and nobody saw or noticed the movement still baffles me. However, what matters now is that those girls must be found!"
President Barack Obama said Tuesday, "We're going to do everything we can to provide assistance to them … Our embassy in Abuja [Nigeria] is prepared to form a coordination cell that could provide expertise on intelligence, investigations and hostage negotiations and to help facilitate information sharing and victim assistance."
Reportedly, the FBI, running this mission through the office of the director of national intelligence, might use unarmed drones and "satellite imaging and electronic eavesdropping."
In an hour-long video, Abubakar Shekau, leader of Boko Haram, bragged this week that he has the children. "I will sell them in the market, by Allah. I will marry off a woman at the age of 12," he said.
While 276 girls were snatched, 43 reportedly escaped. But news broke this week that amidst the renewed violence, at least eight more girls were kidnapped on Monday.
"Our focus must be to bring these girls home safely, and we should take whatever assistance is offered to achieve this," Michael Adeniyi, the former president of the Organization for the Advancement of Nigeria, told the Amsterdam News. "Then we should concentrate on restoring peace and sanity to Nigeria."