New Yorkers rally for the return of kidnapped Nigerian girls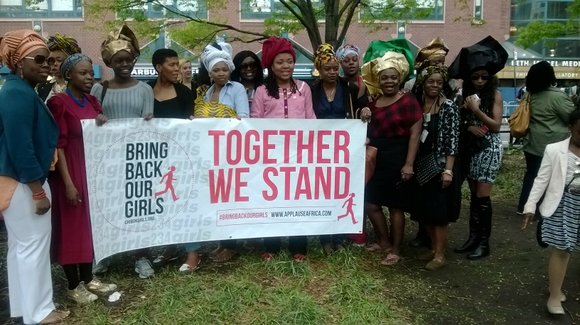 So Boko Haram arrived, dressed and armed like the Nigerian military; they put the girls on the trucks as if they were taking them to safety, but then they began firing their weapons and set fire to the school. Boko Haram means "Western education is sinful."
Onyeani said that while people might criticize the government's seemingly slow response, it is impossible to hide 200-plus children without someone seeing something. He said, "If people know all these as facts, why are they withholding the information from the Nigerian authorities?"
Onyeani says the world must ask Shettima "what he knows and when he knew it. The world must make it plain to northern Nigerian leaders that in their quest to drive a wedge between the Nigerian people and Goodluck Jonathan's government, they should not resort to trifling with the lives of innocent school girls in a diabolical effort to render the country ungovernable."
Onyeani recalled that in 2002, a Muslim cleric called Mohammed Yusuf established Boko Haram, setting up a religious complex and an Islamic school, but they were to get involved in trying to keep a leader from the north as head of the Nigerian government, hence the violence, killings and bloody disorder. Since September 2010, Boko Haram has freed hundreds of prisoners and bombed states, police headquarters, the United Nations Headquarters in Abuja and many public buildings.
Onyeani declared that "given the bold public utterances of some of the northern leaders, it is apparent that they have chosen the use of the Boko Haram as their vehicle to forcibly take power back to the north."
Activist Minister Menelik Harris sits squarely on the side that there is international collusion in this whole tawdry affair. He said, "Nigerian and African people are forced into another 'humanitarian scam' using our children as a recolonization and militarization political tool." Rather than neocolonialists and their minions begging "natural enemies" whose mission is to "enslave, imperialize, exploit, dominate, colonize ..." Africa for profit, Nigeria should organize a combined military force from the African and the diaspora nations."
Chet Whye is organizing a march and rally for the kidnapped Nigerian girls on Saturday, May 10 at 9:30 a.m. at Marcus Garvey Memorial Park.
Kechie's Project is hosting a rally on  Saturday, May 10 from 12-4 p.m. at the Consulate of Nigeria, 828 Second Ave. at 44th Street, N.Y. For more information, email miamah.richards@kechiesproject.org.