Talking SCHOP! That full feeling …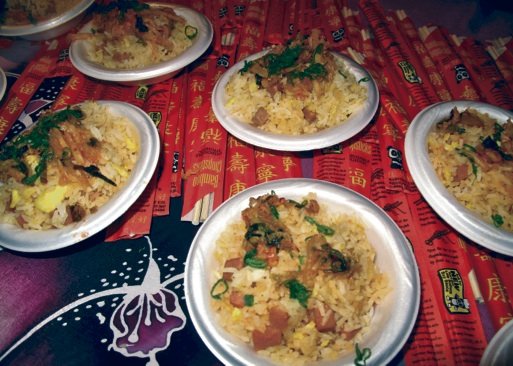 My favorite sweet bite came from Estela (@EstelaNYC). OK, so it's panna cotta, my favorite, but this demurely sweetened vanilla version was topped with honey-vinegar agrodolce ("sour sweet"), bee pollen and gray sea salt. It was a transformative, tempered moment. They have replaced dark chocolate or berry coulis as my toppings of choice. Wow, wow, wow!
There are too many other notable bites I consumed (for you, of course!) to mention, but here are a few more in rapid order: acidulated ricotta with pea puree and fava bean salad from Juni (@Juni_NYC) was a surprise to my palate; beautiful head cheese on a sesame cracker from Blue Hill (@BlueHillFarm) was skillful and unique as per usual; and Talde's (@TaldeBrooklyn) spam fried rice would have been devoured had it been in my first hour of eating.
For the sweets, my main man with the plan Bill Telepan (@BillTelepan) shared apple pancakes with foie gras butter (yup!) and Dominique Ansel (@DominiqueAnsel) showcased his newest craze, the Wafflegato, a vanilla ice cream Belgian waffle topped with hot maple coffee. I still need to try a cronut and a cookie shot, but those lines …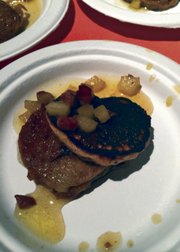 Finally, the Peacock (@ThePeacockNYC) turned me out with sticky toffee banana date pudding. Conveniently (wink), I had storage containers in my bag to take a couple home at the end of the night. Thanks!
It was a grand evening with a DJ, silent auction, a marketplace for amazing kitchen and cooking items and celebrity chef book signings in tow. I left 82 Mercer full. Yes, full with that "I can't eat another bite" face, but also full with the knowledge that the funds raised will go to continuing to fight childhood hunger in America. It's ironic when you think about it, but it is that full feeling that every child deserves to have.
Thank you to Share Our Strength, Taste of the Nation and all of the chefs, bartenders and vendors for a truly special evening. Please visit www.nokidhungry.com to find out how you can help take a bite out of childhood hunger in your community and in our nation.
Happy eating and thanks for reading!
---
Kysha Harris is a food writer, culinary producer, consultant and owner of SCHOP!, a personalized food service offering weekly and in-home entertaining packages. Questions? Comments? Requests? Feedback? Invitations? Email her at kysha@iSCHOP.com, follow her on Twitter and Instagram @SCHOPgirl and on Facebook www.facebook.com/SCHOPnyc. For even more recipes, tips and food musings, subscribe to her blog at www.talkingSCHOP.wordpress.com.