Q&A with Light Graffiti Artist Vicki DaSilva
Tanisia Morris | 5/14/2014, 3:08 p.m.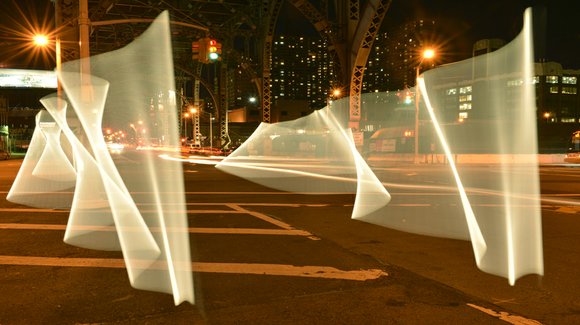 The light painting pioneer shines her light on the 12th Ave. viaduct at W. 125th St. as part of a new public art initiative that kicks off this weekend.
Vicki DaSilva's signature light photography is inspired by graffiti, one of the four elements of hip-hop culture, but you're most likely to find her with 4 and 8-foot fluorescent bulbs in her hands than spray paint. She creates "light graffiti" by using her camera to capture the movement of her light source in midair, which is painted in the frame. It's a photographic technique that DaSilva, the winner of the 2012 Artists Wanted "Art Takes Times Square" contest, has been experimenting with since she moved to New York in 1983 after receiving her BFA from Kutztown University in Pennsylvania. DaSilva has worked with acclaimed video and performance artist Joan Jonas and Richard Serra, an innovative minimalist sculptor and video artist.
For "Repurpose," a public art project that's going to be held under Harlem's Riverside Drive Viaduct, DaSilva had to be swift. Unlike her previous light paintings, these interventions were created while cars were driving under the viaduct at night. This meant that she had to draw her light graffiti within pedestrian crosswalk times.
DaSilva's work was displayed on the electronic billboard of the Cotton Club on Saturday, May 10. The light presentation is one of three installations that will take place this summer. Harlem Focus connected with DaSilva, the featured artist of "Repurpose," to discuss light graffiti, gender disparity in the arts and how the light interventions can engage the Harlem community.
Harlem Focus: Why did hip-hop and graffiti culture have such a profound impact on your work?
Vicki DaSilva: I was there in the '80s for the birth of hip-hop and graffiti. I was going to the Roxy and seeing it all unfold with my friends. Being a graffiti artist looked like fun, but I was not from New York City and was not cut out for that. I was studying photography in art school and fascinated with night photography. I put those ideas together to come up with my own work.
HF: What inspired you to use light to translate graffiti art? Do you find that people are more receptive to this kind of medium as opposed to the traditional graffiti found on subway cars and buildings?
VD: My study of photography and contemporary art at Kutztown University was my inspiration. My friend was a fellow student and also the childhood friend of Keith Haring and they grew up together in Kutztown, so I was exposed to watching Keith explode and take over the scene in New York City. I think all graffiti is great and valid! I tried to emulate the idea of it in a fresh way through photography. It was also a legal way to do it anywhere I wanted.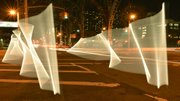 HF: What about the environmental benefits of light graffiti— particularly in urban communities that are often dealing with environmental issues like pollution?
VD: I definitely care about the environment and being aware of my carbon footprint as a person and an artist. Yes, there is a benefit to light graffiti as it exists as an action for a photograph. But traditional graffiti will never disappear. All art forms are valid. Artists have to make their own decisions about their materials, for better or worse.