Q&A with Light Graffiti Artist Vicki DaSilva
Tanisia Morris | 5/14/2014, 3:08 p.m.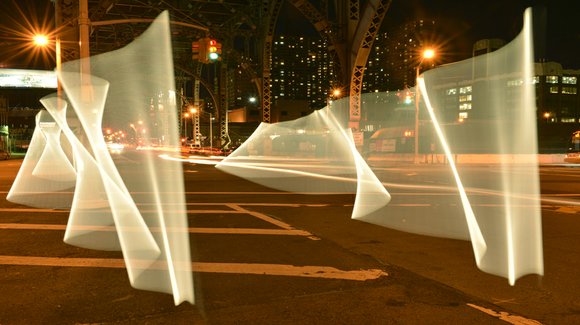 HF: How might art projects like "Repurpose"transform urban landscapes like the viaduct?
VD: I believe when art is made on site within a community the artist automatically becomes a part of that community. When art becomes familiar, it also becomes the norm and the community at large tends to get involved as spectators and appreciators. That brings more people out and about. Art and culture has always been the key to revitalization.
HF: You've been creating light painting photographs and light graffiti since the '80s. How do you continue to reinvent yourself?
VD: Artists typically make work that is their signature style of some sort to stand out from the crowd. We are trying to create work that will be recognized as strictly our own. I do my best to keep it fresh and to continue to push the work in various ways. I will make this type of work for as long as I am able. I enjoy it too much to stop!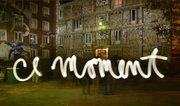 HF: When you were dubbed the "first female light painting artist," were you aware of the gender disparity in some art forms or graffiti culture prior? How did those undercurrents affect you as an artist?
VD: Barbara Morgan made one series of light painting photos in the 1940s. So she was actually the first female to make those types of photos in black & white. All females feel gender disparity in practically every career that is not gender specific. I feel that disparity continually.
HF: I read that you interned for performance art pioneer Joan Jonas [in the '80s], did you ever have conversations with her about how to navigate the industry?
VD: Joan Jonas was just chosen to represent the United States at the 2015 Venice Biennale at age 76! The industry's gender bias was a given so we spoke more about the intense dedication it takes as a female artist to survive. I think her generation of women were less likely to have families because they believed, rightly so, their careers would suffer. That was unacceptable to me. I wanted both career and family regardless of my art world or financial success. Success for me means happiness and that equals making art and having a family.
HF: You took a break from art to become a mother in the '90s. What was it like to transfer the energy that you had invested in your art into to motherhood? How did you juggle the two roles?
VD: Like any woman who chooses to have a career and a family, you do what you gotta do on a daily basis. Because my work is created mostly outdoors at night I decided to take that break for a few years to be the mom I wanted to be. I trusted I would create the time to make art again, which I did. I think both my work and my kids are better off for that decision.
---
Part of the 2014 NYCxDesign festival, "Repurpose" is a cross-borough collaboration that features local, regional and international artists who work with light. The event will be held on Saturday, May 10, 2014 underneath the 12th Avenue viaduct from 125th Street to 135th Street. Projections are from 8:30 p.m. through 10 p.m. The event is part of a series of public art interventions organized by the West Harlem Art Fund. For more information, visit: http://westharlemartfund.wordpress.com.