The people's mayor: Ras Baraka wins Newark mayoral election
5/15/2014, 10:37 a.m.
Congratulations citizens of Newark; you are now mayor.
In what was one of the most talked about mayoral political races, filled with the twists, turns and a thick plot, Ras Baraka is now mayor-elect of Newark, N.J. Career politician Baraka, son of the late Amiri Baraka, took 54 percent of the vote in his victory over Shavar Jeffries.

"We are excited to get to work to move our city forward," an exhilarated Baraka told the AmNews exclusively. "We believe that our greatest days are ahead of us, and we're looking forward to working with everyone who has the best interest of the people at heart."
Taking only 46 percent of the vote, Jeffries' run to take the seat left by now U.S. Sen. Cory Booker has come to an end. Even after getting millions of dollars from Wall Street and running slanderous commercials with a price tag of $2 million, Jeffries' campaign didn't have enough to beat Baraka.
Leaning on his motto "When I become mayor, we become mayor," Baraka's campaign promised voters a more transparent and inclusive Newark government. Major issues during the race included repairing Newark's educational system, controlling rising violence and aiding the struggling economy.
"We've been organizing for decades," Baraka said in a previous interview with the AmNews. "This is about the labor of many people, and I always thought I could make changes. All of the issues we are fighting for and trying to fix in the city are affecting us all over the nation."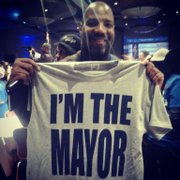 Baraka held his election night party at the Robert Treat Hotel in downtown Newark. He thanked his supporters after giving thanks to his late father. He reflected on the campaign and assured his supporters of a promising future while wearing a baseball cap that read "Victory!"
"When everybody didn't believe, you believed," he said. "Today is the day we say goodbye to the bosses."
Holding his election night event at the Rutgers-Newark campus' Golden Dome Athletic Center, Jeffries conceded. During his campaign, those working for him admitted to setting Baraka's campaign bus on fire.
During his concession speech, Jeffries said that he wants to move forward and work with Baraka as he takes office.
"So it's time now for us to be one city, one Newark," Jeffries said. "The time for fighting is over, the time for disagreement is over. I extend my hand fully to Mayor Baraka and his team. I'm available to do anything he needs for this city we love so dearly."
The election was also noted for dividing many voters with televised confrontations and on-the-street arguments.
The heated race lasted all the way up to the final hours of Election Day, as supporters from both sides urged people to vote. Reports indicate that voter turnout numbers were high for the election.
Former Brooklyn City Councilman Charles Barron said that Baraka's election is "a great day in Black radical politics." He credited Baraka's youthful and enthusiastic team for the win.
"What excitement the new mayor generated when he told his supporters that 'We are all the mayors of Newark,'" Barron said. "His father, the legendary Amiri Baraka, is smiling from heaven, as is former Mayor of Jackson, Miss., Chokwe Lumumba,"
Former Mayor Booker said in a statement that he's committed to offering help to Baraka as he makes his transition to City Hall.
"I look forward to fully supporting him as he steps up to lead Newark, deal with our city's challenges and continue to move our city into a brighter and better future."
During his campaign, Baraka said he plans to focus on jobs, including development and training. He said that many of the issues facing Newark could be solved by lowering unemployment. He blames high crime on the high unemployment rate in the city, which correlates with the need for some folks to get money through violence. He plans to create a deputy mayor position specifically for unemployment.
"The time dictates what must be done, and this is the right point in history for the kind of mayor we need now," he said. "I tell people, when I become mayor, we all become mayor. When I raise my hand, I want them to raise their hands too. There has to be a cultural shift to raise accountability."