World rallies for kidnapped Nigerian girls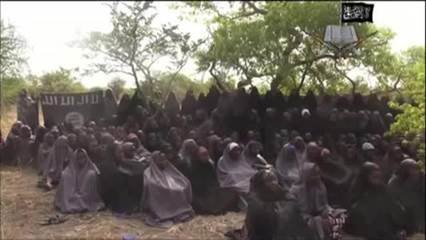 Public pressure both at home and abroad is keeping hope alive for the safe return of the 200-plus Nigerian girls abducted from a boarding school in a remote part of northern Nigeria by the notorious Islamic fundamentalist Boko Haram group.
The #BringBackOurGirls viral campaign is phenomenal, and it was the brainchild of Ibrahim M. Abdullahi, a managing partner at a law firm based in Abuja, Nigeria. He said, "It's gratifying that because of the popularity of the hashtag, the whole world has an interest in the abduction of the girls."
The whole world is watching.
During the South African struggle against apartheid, a slogan was born: "You have touched the women you have struck a rock; you have dislodged a boulder—you will be crushed."
At one of several New York City rallies on the crisis, Harlem City Council Member Inez E. Dickens told a crowd at City Hall, "If they steal one, they have stolen your child. They have stolen my daughter. They have stolen my sister. And today, we stand united to say, 'This will not be tolerated.'"
"We want the government to do everything humanely possible and use all the resources to get our girls back," said Nkechi Ogbodo, who runs Kechie's Project, a New York- and Nigeria-based nonprofit girls' mentorship group.
The Nigerian-born activist organized the rally outside the Nigerian Consulate on Saturday. "We look up to our president, and we know he cannot do it all alone, but we need to know that he is there leading us to make sure that we don't have this type of thing happening again," she told the AmNews. "He is paying attention. The African leaders are paying attention. We are living in a changing world where news travels fast. Social media is there. Things can no longer be swept under the carpet."
It took almost three weeks for Nigerian President Goodluck Jonathan to make a national response that the government will do all it can to bring the girls home. News as of press time was that the group's leader, Abubakar Shekau, is bragging that he has converted most of the girls to Islam. In a widely publicized video, about 100 girls between 14 and 16 years old, believed to be part of the kidnapped group, are seen reciting sentences in Arabic as they sit on the ground wearing traditional Muslim chador gowns. Most of the girls were Christian. There are fears that the girls may have been separated, with some sold as child brides in Cameroon and Chad.
Shekau declared that he might exchange those who have not converted for captured Boko Haram militants. Nigerian Interior Minister Abba Moro said no.
Ogbodo told the AmNews,"Someone told me that Boko Haram must be very excited by the attention, but eventually, they are going to pay attention for taking advantage of our young girls and all the killings of our young boys, for all the schools they have burnt down. Nigeria is not an Islamic country. Nigeria's constitution says that everyone can practice any religion they want to, so why are they killing innocent girls and preachers? … hopefully, we will get these girls back."