Beloved revolutionary Elombe Brath joins the ancestors
Herb Boyd | 5/22/2014, 11:34 a.m.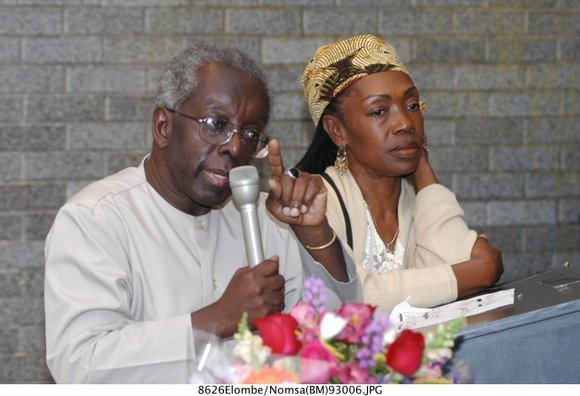 The impressions shared at his 77th birthday salute and the subsequent tribute are just as meaningful now that his spirit lingers with us. Acclaimed artist Ademola Olugebefola, one of the founders of the Dwyer Cultural Center, provided further artistic and political context for those intense waves of Black consciousness in the '60s. "What Elombe and Kwame and others in their organization set in motion was a number of artistic and political associations, including Weusi," he said. "Even this cultural center springs from those visionaries, and it's taken us 20 years to put this center in place. And where you are sitting is the result of what Elombe and Kwame started years ago."
"You have to understand that Elombe and Kwame and the people around them were about self-respect and self-determination," said Dr. Leonard Jeffries. He summoned icons of the Haitian Revolution, the likes of Dessalines and Christophe, who should stand as inspiration for young people today as they continue the quest that Brath and his brother had envisioned. "Elombe was always about family, always about the health and welfare of the African family, and that is something we must honor as we honor him."
Renowned poet George Edward Tait has often expressed his love and appreciation for Brath, and did so elegantly at the tribute. "Brooklyn & Bronx brainchild answering the be-bop beat of a Barbados Birdcall/Hipstrutting to Harlem homebase and headquarters/Student of streetspeaker seminars and stepladder symposiums/Becoming soldierstar of study and struggle/Becoming revolutionary renaissance revivalist," is the opening stanza of the poem in honor of his fallen friend and associate.
It was truly "Elombe Time," and as Tait concluded in his poem: "A freedom fighting man; a family man/Freedom fighting day after day; freedom fighting decade after decade/With family foundation, family fixture, family framework, family fulfillment/Behold the Brath of most persistence; behold the Brath of most resistance/It's Elombe Time: to be continued & continued & continued & continued."
On that momentous occasion, Lisa Noble, Gil Noble's daughter, recalled that it was Brath who educated her father on Africa and facilitated the appearance of so many important revolutionaries on "Like It Is." One clip from the show includes Brath with the late Ossie Davis, as they reacted to the then visit of President George W. Bush to Goree Island.
Noted broadcaster Bernard White told a couple of memorable stories about Brath, but he really elicited laughter when he recounted how Brath's children once hid his shoes to keep him home. "Elombe was always on the move, and this was their way of trying to stop him and get him to rest," he explained.
But now the great warrior can rest for the ages because he has, like Othello, done the state some service and they know it; and if they don't, all they have to do is to witness the coterie of young people who will gather for the memorials that are sure to come as a tribute to his selfless fight to liberate us all.