FedEx Malcolm X dis spurs boycott
Amadi Ajamu | 5/22/2014, 1:28 p.m.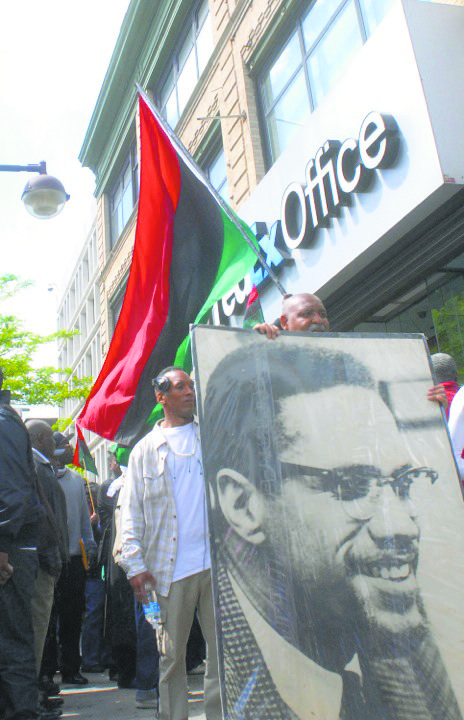 Dozens of people celebrating what would have been Malcolm X's 89th birthday stood beneath a hoisted red, black and green flag as it flapped high outside the FedEx store near the corner of 125th Street and Adam Clayton Powell Jr. Boulevard.
While big stores like Applebee's, McDonald's, Red Lobster, DSW, RadioShack and Party City shut their doors in honor of the annual observance of the May 19 birthday of the Black nationalist movement icon, the manager at the FedEx refused.
Organizers request all businesses to participate by closing from 1 p.m. to 4 p.m. as a show of respect for Malcolm X and their patrons in the Harlem community. This year FedEx was the lone holdout.
With police, including the 28th Precinct's Commanding Officer Olufunmilo Obe, standing quietly outside the store containing staff–but no customers—those rallying called for the store to close. Not doing so, they shouted, would result in a call for boycotts and continuous rallying, as experienced by American Apparel a couple of years back when they had a poster residents deemed to be offensive. "They were the first to close this year," retorted Omowale Clay, co-founder of the December 12th Movement. The group has hosted the shutdown of stores along Dr. Martin Luther King Jr. Boulevard, also known as 125th Street, for the past 22 years.
"Verizon closed all day, and they paid their employees," said Clay. "The store owners understand that this is a commercial moment of silence for one of our heroes. It doesn't make any economic sense to resist our request—which they receive plenty of notice on ahead of time."
Clay said that, with "literally 99 percent compliance with the shutdown and commemoration on the 89th anniversary of Brother Malcolm's birthday, the FedEx Store on 125th Street refused to honor the shutdown and close during the three-hour period. The manager, a Black woman, first tried to raise [the issue] that FedEx was a corporate store and therefore was not obligated to close. In the face of the fact that Red Lobster, Staples, DSW, Applebee's, Marshalls [and] Party City (to name a few) are all corporate stores and closed, the manager then became hostile and threatening to the people who tried in vain to reason with her."
FedEx store manager Shatocka Rose decided to remain open. Clay told the AmNews, "she refused to honor the annual tradition and shut down her business. First she tried to raise that FedEx was a corporate store and therefore was not obligated to close. We asked her was it not a franchise—and therefore her decision. We told her that for 22 years the December 12th Movement, the political children of Malcolm X, have waged a fight to create in the central business district of Harlem a three-hour commercial moment of silence by all business establishments along the 125th Street Corridor. In respect for the history and legacy of Brother Malcolm, Black people have supported and won the fight that all businesses shut down during this three-hour period. Today, that fight is demonstrated by the fact that all businesses along this commercial strip in fact do shut down."