Food festival coming to Harlem in 2015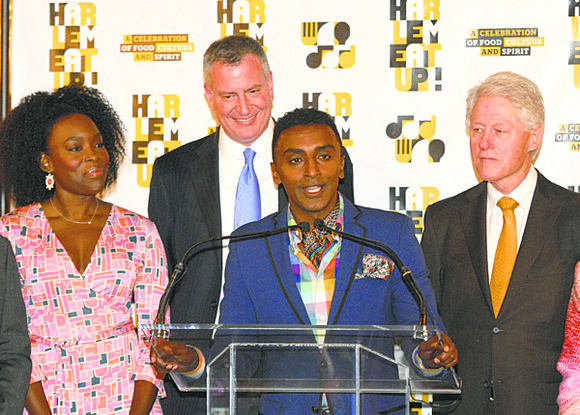 Harlem receives some presidential treatment this week as former President Bill Clinton, along with celebrity chef Marcus Samuelsson and others, have announced the Harlem EatUp! festival.
Scheduled for 2015, the three-day festival is described as a showcase of a "cultural tapestry" of food and art that will feature music and sports and will highlight the neighborhood's flourishing foodie culture.
An event held at Samuelsson's Red Rooster restaurant brought out the former president, whose offices are located in Harlem, Tren'ness Woods-Black of Sylvia's Restaurant, Mayor Bill de Blasio and Manhattan Borough President Gale Brewer. Samuelsson is partnering with Herb Karlitz, president of Karlitz and Company.
"The community is just right for something like this right now," Samuelsson said. "With all of the new restaurants that are coming in, we thought it was a perfect balance of new and old. We want to keep the price of the event affordable. We've been working on this for six months, and we also need a year to build it. We want to do it the right way."
Clinton is serving as an honorary chair for the festival. A who's who of Harlem are serving as ambassadors and sitting on the steering committee, including Richard Parsons, Barbara Askins of the 125th Street Business Improvement District, Khalil Muhammad of the Schomburg Center for Research in Black Culture, Jonelle Procope of the Apollo Theater, Bevy Smith and Curtis Archer of the Harlem Community Development Corporation.
The festival will benefit Citymeals-on-Wheels and Harlem Park to Park. The Clinton Foundation is a supporting partner, and so far, EY (formerly Ernst & Young) and L&M Development Partners have signed on corporate sponsors.
Cooking Light and Health magazines have signed on as media sponsors.
"This community has a reputation well-deserved of being service oriented," Clinton said. "We're excited about this. This festival is about food, but it's also about the culture of Harlem. Thousands and thousands and thousands of people will come here. This is a way of lifting this whole neighborhood in a way that I think will have permanent benefits economically for the people who live here."
De Blasio said that the festival will serve as a symbol of Harlem's diversity and inclusion.
"You have representation of so much that's good, strong and vibrant about Harlem uniting generations of Harlemites with everything that's happening today. It's incredibly exciting," said de Blasio.
Lloyd Williams, president and CEO of the Harlem Chamber of Commerce, said the organization strongly supports the festival. The Chamber oversees Harlem Week, another critical event to the community.
"It's very important for Harlem tourism and captures the great growth and the restaurant in the community of Harlem," he said.
While there appears to be much praise over the event, some in the community are buzzing that the event is not going to benefit the community. Some feel the festival will take away from other long standing, established festivals in the neighborhood.
Between now and next year, there will be pop-up events leading up to the festival. Several restaurants, including Sylvia's, Melba's and 67 Orange Street, have announced their participation in Harlem EatUp!