Rest and rejuvenation in Quebec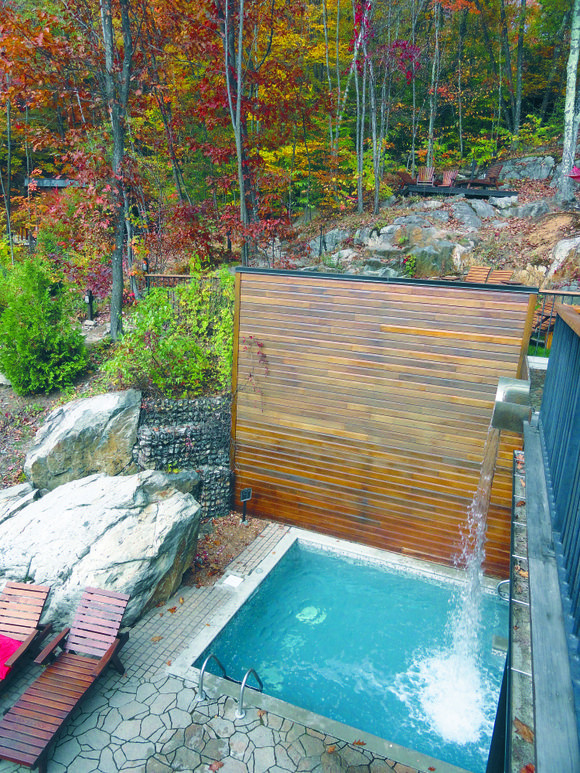 I really don't like the saying, "All good things must come to an end," because that means it's time to wrap up this feature series in the beautiful province of Quebec, Canada—but not before I extol the virtues of two more amazing places that just must be on your Canadian travel bucket list.
Encompassing a boutique design with only 47 accommodations, Auberge de la Montagne Coupee, located in Saint-Jean-de-Matha (only an hour from Montreal) fully embraces a cozy, welcoming mountain ambiance.
Auberge means "inn" in French, and Montagne Coupee means "cut mountain," a reference to the shape of the mountain from the summit down to the L'Assomption River below. The views from the rear of the property and along the picturesque walking paths that wind down into town are magnificent, providing guests with an awakening of body and soul.
The Auberge feels like you've been invited to someone's home at every turn, from the warm colors to the comfortable furniture, open-floor plan, floor-to-ceiling windows, hardwood floors, intricate detailing and, most of all, the warm and welcoming staff.
What they call their "regular" rooms are actually very inviting, spacious and beautifully furnished rooms with two queen beds and intimate touches of home. They also offer Luxury, Superior and Superior Plus suites with upscale fixtures, two-person Jacuzzi tubs, glass-enclosed showers and other luxury accoutrements.
Outside, great care has been bestowed upon the landscaping, which features multi-hued plants and flowers, verdant plants and trees (most of it from the natural setting) foot bridges, ponds, waterfalls and so forth. It's an apt complement to the wealth of activities offered here, from tennis to hiking, golf, cross-country skiing, horseback riding, snowmobiling and other activities.
Facial skin cleansing, full-body massages, hand and foot paraffin treatments, pressotherapy, exfoliation, manicure and pedicure services are among the delights found in their spa—many of which can be combined in one of their special lodging/spa packages.
I enjoyed one of the finest meals I've ever had in their restaurant, which features what they call high-quality ''ancestral cuisine.'' Think liverwurst and black pudding flavored with fig and porto, cauliflower couscous and anise crumbles; Nagano pork cheek with mushrooms, rustic cream and mashed Yukon gold potatoes; filet mignon with Amerindian sauce with root vegetables and seasonal squash curry; and pappardelle with rabbit confit, Romanoff sauce flavored with sagebrush, and prosciutto chips. And that's just the beginning!
Auberge Montagne Coupee offers an upscale yet low-key environment peppered with dramatic natural beauty, amazing culinary fare, fine body and skin treatments and an incredible overall experience at every level, all provided at very reasonable prices given the quality, professionalism and expertise.
Finding heaven on Earth
Sometimes you wonder if a place was named for its setting and amenities or if the name came first. Sort of like the chicken or the egg dilemma. It's just something to ponder when you arrive at La Source Bains Nordiques, located in the town of Rawdon, Canada, also about an hour from Montreal.
The first (as well as middle and last) thing that captures your attention here is the absolutely unparalleled, off-the-chain, stunning beauty of this mountain paradise. And it's immediately clear why people come here to truly reconnect to their inner being, and for me, to the expansiveness of the universe.