York College celebrates the achievements of past members of its Teachers as Leaders Program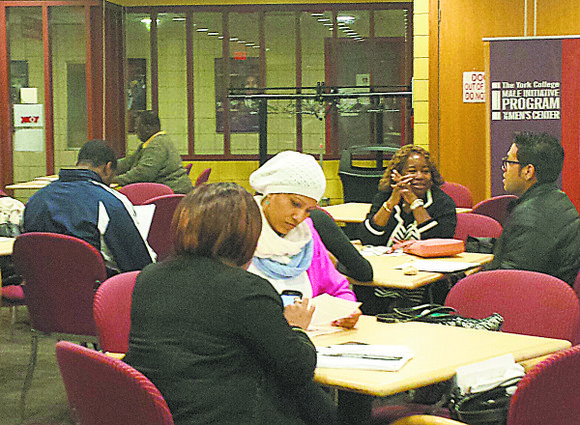 On Thursday, May 15, the York College Black Male Initiative Program recognized the achievements of previous participants of the Teachers as Leaders Program during a welcome back event on the college's campus in Jamaica, Queens.
Delivering the keynote speech, Lindamichelle Baron, chair of the Department of Teacher Education at York College, described the former participants of the program as those who are willing to make a change in the education system. She said many educators have served in schools where some teachers practice business as usual.
"And business as usual kills our children. Those young men and young women in [the] classroom that don't see why they are there, don't see hope, don't see something for it in their future," said Baron, adding, "If they don't see something in their future, they are willing to live in the present that doesn't offer much for them. The present offers streets, the streets that are compelling. It offers them incarceration and death. That's literally what our children have begun to buy into. So we have to be leaders with passion."
The Teachers as Leaders Program (TALP) was established by the City University of New York's Black Male Initiative in 2008 with funding for the first two years. Jonathan Quash, director of the York College Male Initiative, said several of York's TALP participants have graduated and are currently serving in teaching and mentoring roles in schools all around the world, including in South Korea.
"And so during that two-year period, we had a total count of 54 students throughout the university who received tuition reimbursement, certification workshops for their testing and other supplementary materials in information workshops to help them become certified teachers," said Quash, adding, "These young people are the embodiment of the program and the York College experience. Their success proves that if we invest in the youth of tomorrow, there will be a return on that investment."
Baron called on the teachers to focus on helping the children rather than being burnt out trying to satisfy all parties.
"We get beat by, sometimes, the administrations that are so consumed by getting the best grades that they don't have the best students. We get beat by the parents, we get beat by the students that don't feel how much we care. So what do we do? We burn out," Baron said, continuing, "So we have to work together. We have to go into schools and get together and say, 'We are revolutionaries and won't allow ourselves to burn out.'"
She advised that teachers should first recognize that though they are leaders and revolutionaries, they do not have all the answers.
"We have to try to determine what we need to do differently, not business as usual. Not just so our children can't be incarcerated, not just so they won't be killed, but so they can maximize who and what they are," said Baron. "We come from a tradition of strength and power and knowledge … and our children think they're supposed to be street thugs. We have to be the ones to help them make that difference."