York College celebrates the achievements of past members of its Teachers as Leaders Program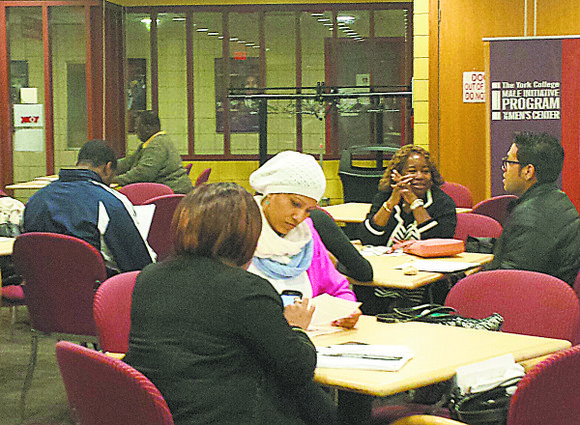 Five campuses, including York, initially participated in TALP, but eventually, the Borough of Manhattan Community College, Brooklyn College, City College, the College of Staten Island, Hostos, Hunter, City Tech, Queens and York all began to participate in the program.
"The purpose is to essentially enroll students of underrepresented population and then retain them. A part of the program is designed to get more Black male teachers into the classroom in New York City public school system," said Quash. "We've been very successful in doing that. Currently what we do in an after-school format, from Monday to Thursday from about 3:30 to 6 p.m., we have high school students and middle school students coming for testing assistance, usually for the SAT or regions programs, or … specialized testing exams for high school."
He said these individuals work very closely in the course of the semester with about 30 to 35 students in the program patterned after the "Let's Get Ready" model. The mission of "Let's Get Ready" is to expand college access for low-income high school students by providing free SAT preparation and college admission counseling. It accomplishes this mission by mobilizing and training volunteer college student "coaches" as tutors and mentors who provide not only instruction, but also the encouragement and inspiration students need to succeed, said the office of the York College Male Initiative Program and Men's Center.
Michael Waugh, a 2010 TALP participating graduate and a New York City public school math teacher, said the program was instrumental in his life.
"With the program's support, I was given opportunities that I wouldn't have had otherwise," said Waugh.
Also speaking at the event was Geneva Walker-Johnson, vice president for student development, who said the title of the program itself embodies a lot.
"Because you teach in everything you do, every person you meet, every interaction you have and reaction that you have, you are teaching a lesson. You are also leading by example," said Walker-Johnson. "So every action you take, every interaction you have, every person you interact with, you are leading. And lots of time, people are just watching you; you don't realize you may be doing something or saying something and you look over and someone is trying to figure out and interpret what you're doing."
Another former participant who shared his experience was Emmanuel Thelusma. He currently works within the Academic Advising Center at Queens College. Thelusma said the experience he gained from the program helped put him directly in the classroom.
"So for students like me, who's never taught before or has never worked with students of different age groups, it was a great opportunity to actually be hands on and working on the field with students to kind of make a difference in the lives of the students that matter most to us. Ironically enough, I pretty much do the same thing now. I'm trying to influence other young men we meet to kind of do same thing and be more involved," Thelusma concluded.