Claudia Jones was to the left of Karl Marx
Herb Boyd | 5/29/2014, 1:53 p.m.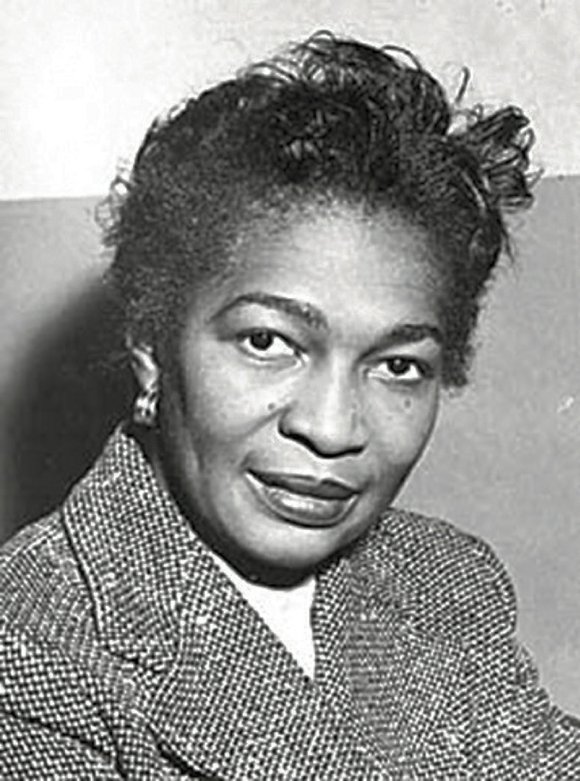 Other than its location between two community landmarks—the Johnny Hartman Plaza, in honor of the gorgeous-voiced jazz singer who lived in the neighborhood, and the Frank White Garden, named for a man who was shot and killed while protecting a youth facility—there's very little to distinguish 504 143rd St. between Hamilton Place and Broadway. But there was a time back in the late 1940s when a notable revolutionary lived here, and where other than a nice green awning over the entryway, a plaque should be placed in tribute to their dedication to civil and human rights.
Activities
Find out more: Neither Carolyn Boyce Davies' or Marika Sherwood's biographies were cited above, but they are essential in deciphering the complexity of Jones' remarkable life. It will also be helpful to read some of Jones' articles..
Discussion: Several troubling aspects of Jones' life are mentioned, and none more important than the ramifications of the Smith Act. The Cold War, witch hunts and the Joseph McCarthy-led House Un-American Activities Committee are related subjects that will broaden an understanding of this era of American history.
Place in context: Jones was born in Trinidad and died in England. In fact, she's buried right next to Karl Marx, and that juxtaposition is something to consider given their differences in race, sex and the generations in which they struggled.
In his autobiography, which was completed by his daughter, Wendy Johnson, Howard "Stretch" Johnson recalls his return from the military and resuming his contact with his radical comrades. "My first contact with the [Communist] Party, on my release from the Army, was through Claudia Jones. Claudia had moved into the apartment on the sixth floor in the same building on 143rd Street that Martha [Johnson, his wife] had found to share with Carmen Alves while Bert Alves and I were doing our patriotic duty in the military service."
Any one of the personalities mentioned above warrant more than a passing nod, but Jones is the subject of the moment in the same way she was throughout the Cold War period, during which time individuals who expressed a notion of radicalism, particularly in association with the Communist Party, were targeted.
Tracking down Jones through the typical encyclopedia of African-American history is futile. Rarely is she even a footnote in Black history books, unless they are about leftist politics and leaders such as Paul Robeson, Henry Winston, William Patterson, Ben Davis and Angelo Herndon. And even on these occasions, she seems to be added merely to provide gender balance to the menace unleashed by the House Un-American Activities Committee or the witch hunts of the McCarthy era.
Jones was born (nee Cumberbatch) on Feb. 21, 1915, in Port of Spain, Trinidad. She was still very young when she arrived in Harlem with her parents in the 1920s. Her mother died from overwork when Jones was 12. By the time she was 18 and still recovering from a bout of tuberculosis, she became a member of the Young Communist League, though there are few details available to show this political development. Obviously, she was very politically astute and a skillful organizer and writer because within months, she became the editor of the League's Weekly Review and the Spotlight, according to professor Robin Kelley in his profile of her in the Encyclopedia of the American Left.