Cop claims Tupac's last words were real to the very end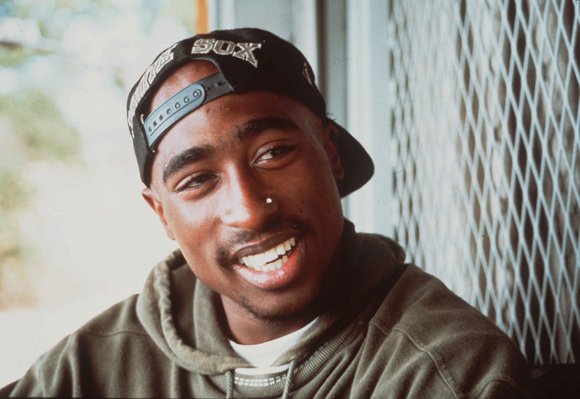 According to a recent report, a police officer revealed that a mortally wounded Tupac Shakur shouted, "F—k you" at him shortly before dying after being shot multiple times on the night of Sept. 7, 1996.
The 25-year-old artist and Death Row Records President Suge Knight were leaving the MGM Grand Hotel and Casino after Mike Tyson's first round knockout of Bruce Seldon. They led a caravan of vehicles waiting at a red light at the intersection of Flamingo Road and Koval Lane when a white Cadillac pulled up and sprayed 13 bullets into Knight's BMW, with four hitting Shakur.
The Cadillac sped south down Koval Lane as Knight blew two tires peeling out, making a U-turn on Flamingo Road before ceasing to a halt near the center divider. The vehicles trailing also stopped.
When Las Vegas Metropolitan Police Department's Sergeant Chris Carroll arrived on bicycle and opened the front passenger door, Shakur's limp body "came right out, like he was leaning against the door. After I pulled him out, Suge starts yelling at him, 'Pac! Pac!' … and he just keeps yelling it … and the guy I'm holding is trying to yell back at him," recalled Carroll. "He's sitting up and he's struggling to get the words out, but he can't really do it … and as Suge is yelling 'Pac!,' I look down and realize that this is Tupac Shakur."
Carroll continued, "So I'm asking him, 'Who shot you? What happened? Who did it?' … and he was just kind of ignoring me. He was making eye contact with me here and there, but he's trying to yell at Suge … and I kept asking over and over, 'Who did this? Who shot you?' … and he basically kept ignoring me, then I saw in his face, in his movements, all of a sudden in the snap of a finger, he changed and went from struggling to speak, being non-cooperative, to an 'I'm at peace' type of thing … Just like that.
"He went from fighting to 'I can't do it,' and when he made that transition, he looked at me, and he's looking right in my eyes … and that's when I looked at him and said one more time, 'Who shot you?'
"He looked at me, took a breath to get the words out, opened his mouth, and I thought I was actually going to get some cooperation … and then the words came out: 'F—k you!' After that, he started gurgling and slipping out of consciousness."
Shakur was transported by ambulance to the University Medical Center of Southern Nevada, where he physically expired six days later. Although 21-year-old Orlando Anderson, with whom Shakur had an altercation earlier at the MGM Grand, was named a suspect, Shakur's murder remains unsolved.
Having retired, Carroll is free to speak about the homicide without concerns of being reprimanded. "It just wasn't time to speak earlier. Now it's been almost 18 years," he said. "There's clearly never going to be a court case on this.
"The second main reason I didn't go public with this before is I didn't want Tupac to be a martyr or hero because he told the cops 'F—k you.' I didn't want to give him that. I didn't want people to say, 'Even when the chips were down, his life on the line, he still said "F—k you," he still wouldn't talk to the police.' I didn't want him to be a hero for that. And now, he's a martyr anyway; he's viewed as a hero anyway. My story, at this point, isn't going to change any of that."
A Shakur-inspired musical, "Holler If Ya Hear Me," is scheduled to start on Broadway June 19, three days after his 43rd physical day anniversary.
For the full story, visit vegasseven.com