EatUp! ... only in Harlem!
Talking SCHOP!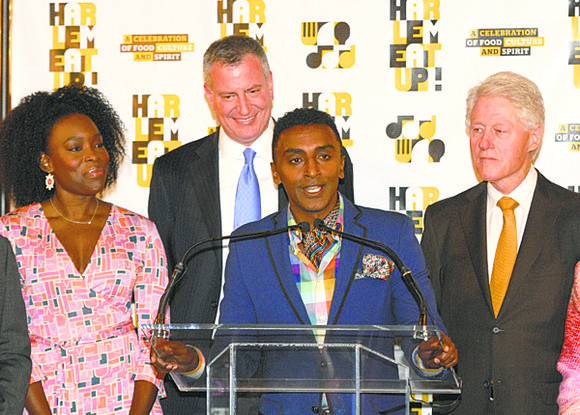 You've seen it. Maybe you have even tasted it. With all of the new and different eateries and restaurants opening, Harlem is fast becoming a food destination beyond our signature soul food. Well, the time has come for Harlem to get its food due and let it shine, shine, shine in a spotlight to be cast next year.
Last week at a press conference held at Red Rooster, chef and restauranteur Marcus Samuelsson (@marcuscooks), along with partner Herb Karlitz (@herbatKarlitz) of the public relations and events company Karlitz and Company (@Karlitz_co) announced the first annual Harlem EatUp! festival (@HarlemEatUp), to take place May 15-17, 2015! The three-day festival will highlight the food, entertainment and arts that represent the spirit of Harlem while paying homage to its roots and cultural fabric.
The room was packed to the hilt with local celebrities and dignitaries, as well as news and media outlets, all in anticipation of the event. Samuelsson's excitement was palpable. "The magic and hospitality that I feel here every day in Harlem is what we aim to convey with the Harlem EatUp! festival," he said. "[I'm] also inspired by the art, music and culture that make Harlem so vibrant. The festival will be in and of the community, reaching beyond the culinary world to be a true celebration of the entire neighborhood."
Honorary Festival Chair President Bill Clinton and special guest Mayor Bill de Blasio joined Samuelsson and Karlitz for the announcement alongside Tren'ness Woods-Black of Harlem's legendary Sylvia's Restaurant. "This is a great day for our city," said Clinton. "I believe that the Harlem EatUp! festival will lift all of Harlem in ways that will not only have permanent economic benefits, but also showcase all of the culture this community has to offer."
Karlitz knows about festivals like Harlem EatUp!, as he and his team have been responsible for the putting on the annual New York City Wine & Food Festival every year, among many other festivals. "It is tremendously gratifying to be helping to bring to life this exciting new festival that will celebrate Harlem and the people at its heart," he said.
With events like a private dinner at the exclusive East Harlem restaurant Rao's on the schedule, the festival will take a lot of money and involve a lot of planning. Karlitz noted, while funding for the festival is still ongoing, EY (formerly Ernst & Young) has stepped in as a founding sponsor with $250,000. Media sponsors Cooking Light and Health magazines will promote and showcase Harlem EatUp!
Most importantly, the beneficiaries of this great event will be Citymeals-on-Wheels and Harlem Park to Park. Citymeals-on-Wheels (www.citymeals.org) has been feeding and caring for older New Yorkers since 1981, providing a continuous lifeline of nutritious food and human company to the city's homebound elderly. In East, West and Central Harlem, Citymeals provides over 178,840 nutritionally balanced meals to 1,315 meal recipients each year, serving 136,760 weekend meals and 42,080 emergency and holiday meals, including deliveries on Thanksgiving and Christmas.