This summer, spend 'After Midnight' with LaBelle, Knight and Cole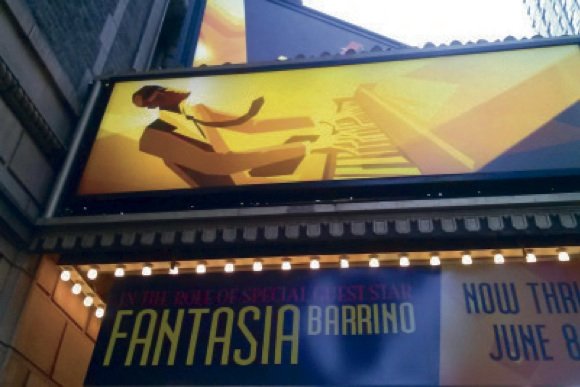 "After Midnight" is a celebration of Duke Ellington's years at the famed Harlem nightclub in the 1920s and 30s.
The five-time Tony nominated musical, conceived by Jack Viertel, sublimely directed and stunningly choreographed by Warren Carlyle and produced by Scott Sanders (Scott Sanders Productions) with Artistic Director and Producer Wynton Marsalis, demonstrates what's great about Broadway and what's tremendous about the artistic gifts of the African and African-American communities.
We can sing, holy cow, and we can dance, and hold the presses, we can make sounds erupt from instruments with such passion and calculated purpose that the slender hairs, dotted so elegantly on the body, rise and begin to sway like reeds pushed by an encouraging breeze, almost as if, when feeling the ancient roots of rhythm, the body responds to our ancestors' clever invitation. "After Midnight" is magic, and the production's cup runneth over in large part because of the superlative jazz orchestra (the Jazz at Lincoln Center All-Stars), which was handpicked by Marsalis.

Each of the 16 seats contain the best in the business, and to quote the great Cab Calloway, it's "Zaz Zuh Zaz." Conductor Daryl Waters and Associate Conductor James Burton III help direct the gifted musicians, who play with intensity, then playfulness, thus demonstrating the sheer joy involved in making music.
The Tony race always throws in a few dramatic surprises, and this year might see a win for the team, including Adriane Lenox, whose is nominated for Best Performance by an Actress in a Featured Role in a Musical; Isabel Toledo, for Best Costume Design for a Play; Peter Hylenski for Best Sound Design of a Musical; and Carlyle, who's nominated for Best Direction and Best Choreography.
This production is created with love and includes several well-placed instrumental and vocal showstoppers in simple translations. It's worth the ticket price. With the show's astounding and spirited choreography, the nightly sold-out houses aren't a surprise.
The great Tommy Tune, who earned nine Tony Awards, has chosen this as his favorite musical for myriad reasons, including the sublime dance performances by Julius "iGlide" Chisolm and Virgil "Lil' O" Gadson.
Vocally, the talent is so rich that the playing field is perfectly leveled. Savvy and passionate Emmy and Tony Award-winning producer Sanders respects his audience and delivers extra star wattage with special guest star Fantasia Barrino, who impressed Broadway audiences six years ago with her eight-month run in "The Color Purple" (which Sanders also produced), proving that "American Idol" barely scratched the surface of her vocal talent.
Barrino brings her full, breathy voice and inspired intonation to two standards by Jimmy McHugh and Dorothy Fields, ''I Can't Give You Anything But Love'' and ''On the Sunny Side of the Street.''
The diva follows and triumphs with a raw version of ''Stormy Weather,'' then skillfully turns around to scat playfully on the Calloway tune ''Zaz Zuh Zaz."
"After Midnight" will be hosting other special guest spots after Barrino's run this summer, including vocal powerhouse Patti LaBelle (June 10-29), living legend Gladys Knight (July 8-Aug. 3) and smooth-as-silk Natalie Cole (Aug. 5-31).
The Tony Awards will broadcast live from Radio City Music Hall on CBS on June 8, 8-11 p.m.
"After Midnight" is now playing at the Brooks Atkinson Theater.