Chief Banks' resignation shakes up NYPD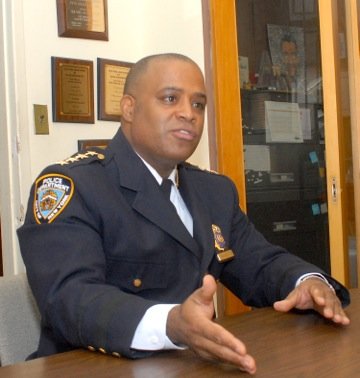 "I'm happy with my decision," outgoing NYPD Chief of Department Philip Banks told the AmNews. Banks had wanted to retire from the NYPD for some time, so initial news of his promotion surprised many. This week, though, he said, "It's the best decision for the Police Department for me to retire."
Word is that just three days after accepting a "promotion" to first deputy commissioner, Banks sifted through the hyperbole and resigned, determining that the new position was, in fact, a powerless demotion.
Rarely do you see a semi-united front in terms of opinion across the diverse New York City political spectrum regarding an issue with the NYPD. But here it is, from politicos to grassroots activists, people are upset with the sudden departure of Banks.
He accepted the job, pending a discussion pertaining to the details of the position, believed to be the restoration of some of the power that would make it effective in terms of policy and on-the-ground interaction. He changed his mind when the offer was presented as mostly ceremonial, even though Bratton allegedly had initially agreed to expand the role.

Although a "blindsided" New York City Mayor Bill de Blasio wasn't happy with Banks' decision to step down, he accepted it.
De Blasio said in a statement, "We were disappointed to hear of Chief Philip Banks' personal decision to step down. We were enthusiastic about the leadership and energy he would have brought to the position of first deputy commissioner."
The AmNews attempted to contact a spokesperson for the NYPD for a response, but requests were not granted by press time.
It's bad enough, say activists such as A.T. Mitchel of Man Up Inc.! and Daniel Goodine of Men Elevating Leadership, that the Black community has lost a member of the NYPD who they could make aware of the real issues going on in the inner city, with the purpose of improving conditions and relations between the two beleaguered sides, but, say politicians such as Assemblyman Karim Camara, NAACP President Hazel Dukes, Assemblyman-elect Charles Barron and City Council Member Jumaane Williams, there may be a loss of traction with issues such as "broken windows," stop-and-frisk, police misconduct and efforts to ensure more police accountability.
The reaction to Banks' sudden resignation was visceral. Members of the City Council's Black, Latino and Asian Caucus and members of the Progressive Caucus, along with a host of elected officials and advocacy groups, have called on de Blasio and his administration to "ensure that the needs of Black and Brown communities in New York City are not overlooked."
Monday, surrounded by fellow elected officials and activists, Williams, who is deputy leader and co-chair of the Task Force to Combat Gun Violence, and Council Member Vanessa L. Gibson, chair of the council's Committee on Public Safety, held a press conference denouncing the turmoil at One Police Plaza.
Williams said, "Throughout Chief Banks' tenure, his leadership has played a critical role in helping to navigate difficult relationships between NYPD and communities of color as we attempted to deal with chronic issues in policing. Whether it be the abuses of stop, question and frisk, the misapplication of the broken windows theory or local issues, Chief Banks has deftly held the line for the department while having a responsive ear to all communities. Additionally, having Chief Banks involved in addressing the issues surrounding the death of Eric Garner really helped New York City avoid the racial tensions that occurred during the past two decades.