Renters March for Change
Carrie Jeremy | 11/6/2014, 10:38 a.m.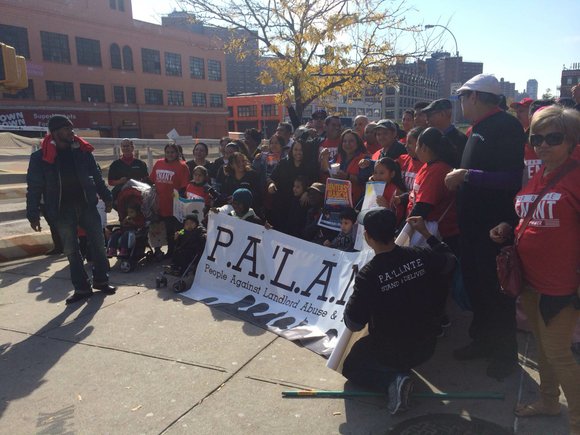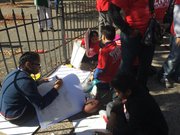 "What do we want?—Rent Down! When do we want it? — Right Now!"

That's what a large group of tenants, elected officials and many bystanders chanted last weekend when tenants, advocates, labor, clergy, and elected officials marched in support of affordable housing.
The goal of this renter's march: Renewing and strengthening the rent laws this upcoming legislative session. "As the city continues to change there is a difficulty finding affordable housing for middle and lower income families," said Athena Moore, director of the Northern Manhattan office, of borough president Gale Brewer.
"With continuing advocacy certain policy changes need to be made to make access to affordable exist to those who need it."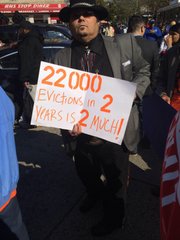 On June 15th next year rent laws protecting more than 2.5 million New Yorkers will expire. Activists believe that keeping the laws governing over 1 million apartments in New York strong will be a defining test of values and commitment to affordable housing. With loopholes and failings in the Emergency Tenant Protection Act, thousands of apartments left rent regulation each year and became unaffordable. Laws allow a landlord to charge as much as New York City's competitive real estate for a rent stabilized apartment with legal rent above $2,500.
Keeping housing affordable has become a critical issue in Harlem where rents have skyrocketed over the past decade. "I joined this march because of the abominable housing condition we are living with," said Seaman Ave tenant David Twomey. "Our landlord is on Leticia James, Public Advocate, worst 100 landlords list. We have over 170 violations, including over 30 which are C, the most hazardous serious class," Twomey continued, adding that his building has been without gas for seven months.
Long-time Harlemites appreciate the support. "Every time I get my rent pay it's a different price," says 80-year-old Macombs Ave tenant Rudy Atkin. "I've been living there since 1985."
"We are at a really critical time where people need to have healthy and affordable housing," said Ogonnaya Dotson-Newman, director of Environmental Health. "This is the first step to making sure housing is not only affordable, but healthy so we can have a healthy community."