Fulton Center Transit Complex opens in Lower Manhattan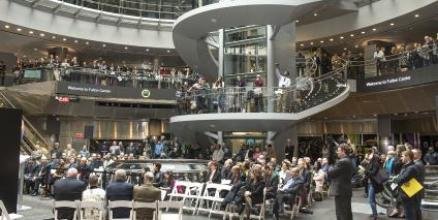 After 10 years and a price tag of over $1 billion, the MTA opens the new Fulton Center in Lower Manhattan on Broadway between John and Fulton Streets. The station allows straphangers to transfer between nine subway lines without having to go above ground.
Opened Monday morning, commuters were welcomed to the new subway station, which is encased in a glass and steel shell and will accommodate up to 300,000 daily riders using the 2, 3, 4, 5, A, C, J, Z and R lines. Construction of the Fulton Center includes restoration of the 125-year-old Corbin Building, which will provide additional public access to the facility.
"This building stands as a testament to the strength and resilience New York showed on 9/11 and every day since. And it stands as a testament to what smart investments in infrastructure can do to improve a city, a state, and even a nation," said MTA Chairman and CEO Thomas F. Prendergast. "It shows what we can do for our customers and our region when we invest in transit, and it shows New York is still thinking big and building big. Great cities like New York need great public spaces, and I'm proud to see this new symbol of our city's strength open its doors."
The $1.4 billion Fulton Center project was funded with $847 million from a special Congressional appropriation granted after September 11, 2001. Known as the Lower Manhattan Recovery Grants, those funds were intended for local transit agencies to repair, replace, and enhance transportation infrastructure in Lower Manhattan.
The MTA provided $130 million in local funds. The project also received $423 million from the American Recovery and Reinvestment Act (ARRA), the largest single award for the Federal Transit Administration's ARRA projects.
A new 350-foot-long pedestrian tunnel constructed under Dey Street between Broadway and Church Street will expand intermodal transit options by offering a connection to the R line, built outside of fare control, and ultimately to PATH trains at the World Trade Center complex. Transit options will expand to include transfers to the E when the World Trade Center Transit Hub opens, and the 1 line once the Cortlandt Street Station is rebuilt.
Ten escalators and fifteen American with Disabilities Act (ADA) elevators have been installed. The public restroom facilities include two ADA accessible bathrooms on the concourse and the street level.
"This new transit hub will go a long way toward enhancing the travel experience of hundreds of thousands of customers. They will finally benefit from a thoughtful design that vastly improves passenger flow throughout the station, minimizes congestion and makes transferring far easier than ever before," said New York City Transit President Carmen Bianco.
The Fulton Center will be the only all-digital signage transit hub in New York City, housing the MTA's largest digital signage media program with an extensive network of over 50 screens to host advertising campaigns that will also be managed and operated by Westfield. For the first time in the MTA system, a site-specific digital arts program will be employed at the complex, which is being managed by MTA Arts and Design.
The transit center also includes 16 interactive On the Go! Kiosks featuring large screens with information for trip planning with Trip Planner+, real-time service status, escalator & elevator status and local neighborhood maps. The screens also provide news and weather information.