City Council bill to make chokehold illegal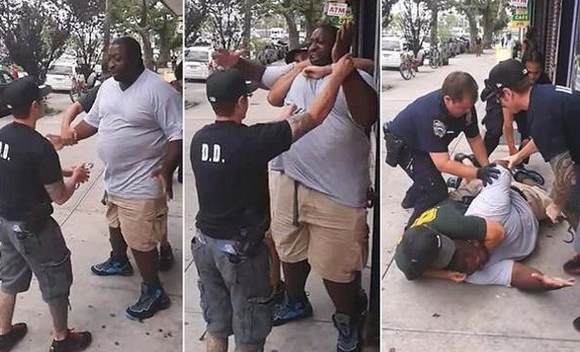 Queens Democratic City Councilman Rory Lancman plans to introduce a package of bills on Thursday, that aims to criminalize the use of chokeholds by NYPD officers and provide guidelines on how the tactic can only be used.
In an interview with the AmNews on Tuesday, the freshman lawmaker said one measure will ban chokehold altogether. Although the take-down maneuver is prohibited by NYPD departmental policy, officers still use it. There's no law that makes it illegal.
"The bill would make it clear that chokehold will only be used depending on the situation the officers are in," the lawmaker said.
Under another bill, city District Attorneys will prosecute cases of negligence assaults for inappropriate use of force. He said the prosecution will prove whether an officer is justified in using the force to subdue someone.
The other measure requires the police department to produce annual reports about the incidents when officers use force. Lancman said this will create transparency and allow the council to track how force is being used by officers.
The lawmaker told the AmNews that the move to make chokeholds illegal, stems from the July 17 chokehold death of Staten Island man Eric Garner. He was placed in the prohibited police tactic by NYPD officer Daniel Pantaleo. Relatives, activists and some council members argued that the use of force was unnecessary.
Garner, 43, was approached for allegedly selling untaxed cigarettes on Staten Island. After being placed in a chokehold and taken to the ground, Garner could be heard repeatedly saying to the officers, "I can't breathe." Weeks later, the city medical examiner's office ruled Garner's death a homicide as a result of the chokehold. They said his health conditions, obesity and high blood pressure were also contributing factors to his death.
A Staten Island grand jury began hearing evidence to determine if there will be criminal charges. Pantaleo and the other officers were not arrested and charged. Last month, Garner's family filed a $75 million lawsuit against the city.
The possibility of getting the bills passed and approved depends in large part with the support of the Police Commissioner William Bratton. At a City Council oversight hearing in September, Bratton made it clear that he would not support a law that calls to ban chokeholds, when asked by Lancman.
"I won't support It,"said Bratton at the time. "I feel that department policies are sufficient, that if lawmakers want to try to make that against the law, well, good luck, but I will not support it."
The comissioner said there are more than sufficient protocols in place to address a problem.
Lancman said he hopes the council and the mayor will support his bills.
"He promised reforms that will make everyone safe," he said. "There's no one who can look with a straight face and said that chokehold is not an issue in New York City."
The AmNews contacted the police union president, Patrick Lynch, but didn't get comment by press time.