Community Affairs Calendar 11/13 - 11/19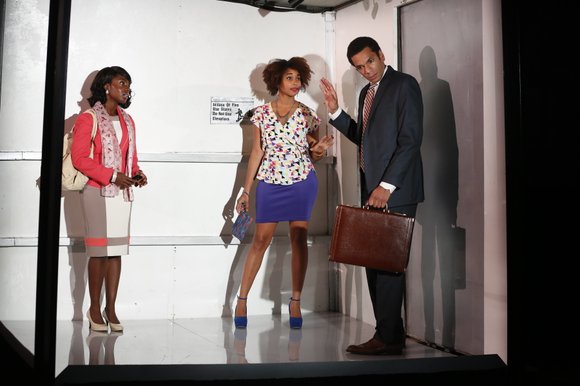 Greetings! Mia Love won a House seat last week in her second bid to become the first female African-American elected to Congress.Love, the former mayor of Saratoga Springs, defeated Democrat Doug Owens in an open race to succeed retiring Rep. Jim Matheson 49 to 47 percent, according to the Associated Press. Love ran unsuccessfully against Matheson in 2012, but the rising GOP star was able to claim victory Tuesday.
Stevie Wonder's Madison Square Garden performance of "Songs in the Key of Life" was amazing. The 11-city tour continues in Washington, D.C., and beyond.
THEATER
"Lift," written by brilliant African-American novelist Walter Mosley ("Easy Rawlins"), features two trapped, young African-American strangers trying to figure out an escape while they discuss issues of culture, race and sex. The show takes place at the 59E59 Theaters, 59 E. 59th St., between Madison and Park avenues, now through Nov. 30. For more information, call 212-279-4200 or visit 59e59.org
Woodie King Jr.'s New Federal Theatre kicks off its 45th season with Karimah's "Accept 'Except' LGBT NY," a tale about gay rights from slavery to modern day, directed by Tony Award winner George Faison and performing at the Castillo Theatre, 543 W. 42nd St., now through Nov. 23, with opening night set for Nov. 6. Tickets can be ordered through www.castillo.org or by phone at 212-941-5800. Visit www.newfederaltheatre.com or call NFT at 212-353-1176.
"Self Made Man: The Frederick Douglass Story," a new play written and performed by Phil Darius Wallace, has its world premiere off-Broadway at the ArcLight Theatre (152 W. 71st St.), beginning Tuesday, Nov. 18, with its opening set for Monday, Nov. 24. The production is adapted from the writings, speeches, letters and autobiographies of Frederick Douglass. Call 866-811-4111 or visit frederickdouglasspla.com for more information.
Vy Higgensen's musical "Alive! 55+ and Kickin'" is at the Dempsey Theater, 127 W. 127th St. in Harlem. For tickets and information, call 212-868-4444 or visit smarttix.com or www.mamafoundation.org.
The Haitian-American KaNu Dance Theater presents "Malgre Tout" ("Despite All Haiti Is Still Standing") at the Jamaica Performing Arts Center in Queens, N.Y., Saturday, Nov. 15 at 7:30 p.m. The full company concert—choreographed by KaNu founder Jessica St. Vil Ulysse—will include the premiere of the company's newest work, "She Was a Poto Mitan," along with guest performers Buyu Ambroise, Ludwine Joseph and DXDC. The Jamaica Performing Arts Center is located at 153-10 Jamaica Ave. For more information, call 718-618-6170, ext. 301.
"Motown: The Musical," with book by Berry Gordy Jr., is now playing at the Lunt-Fontanne Theatre, 205 W. 46th St., between Eighth Avenue and Broadway. For tickets, visit ticketmaster.com or motownthemusical.com.
"Kinky Boots," featuring 2013 Tony Award winner Billy Porter, is at the Al Hirschfield Theatre, 302 W. 45th St.visit: broadway.com/ shows/kinky-boots.
The Schomburg Center for Research in Black Culture, Changing Perceptions Theater and the Creative Collective have announced that " Homage 3: Illmatic," an original play by Shaun Neblett, will be performed Saturday, Nov. 22. The show takes place at 8 p.m. (doors open at 7:30 p.m.) at the Schomburg Center, 515 Malcolm X Blvd. at 135th Street. "Homage 3: Illmatic" comes out of the spirit of Nas' debut album, arguably one of the greatest hip-hop albums of all times. For tickets and more information, visit h3illmatic.com.