E. Harlem Celebrates The Day of the Dead
Janis Jimenez Jaimes | 11/22/2014, 3:45 p.m.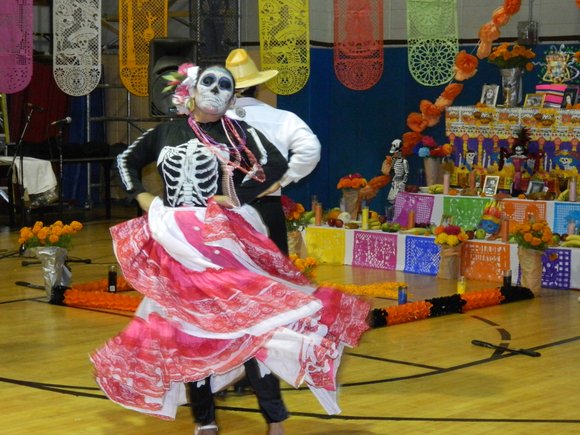 In Case You Missed It.
Rooted in Mesoamerican rituals, the Day of the Dead or Día de los Muertos, has made its way from Mexico to Harlem. With mariachi, folklore dances, and traditional gastronomy, Union Settlement Association organized an event with help from New York State Council for the Arts. The colorful tradition offers a way to bring the community together in celebration.
Originally, the Aztec goddess Mictecacihualt, queen of the Aztec underworld, presided over the festival. The souls of the deceased would travel from Mictlan to the world of the living to visit loved ones. After colonization, Catholic priests moved the festival to coincide with All Souls' Days giving birth to the modern day festivities. Now, loved ones still wait for their visit and place offerings and Cempazuchilt flowers on altars.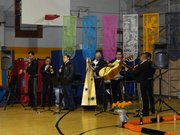 Melissa Nieves, the director of Adult Education in Union Settlement, explained the event was, "an opportunity connect with people that are not here, but with a strong belief." She went on so say that those that have moved on are now, "somewhere else, and that they can hear us, and party with us, and have a good time with us."
Music was a big part of the festivities. Mariachi Real de Mexico made their presence known with a unique and lively performance.
"It is important to share our culture with the community," said Ramon Ponce the singer and founder of the group. "We have come here every year since it started." The event began with small a group of Mexican students taking Adult Literacy classes, and continued growing into a daylong event filled with activities and music.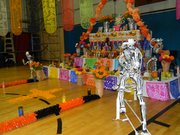 "The tradition is a celebration of life," said Daniel Valle, another artist. He showcased folk art with the customary ofrenda, an altar filled with photographs of the deceased, their favorite things to eat and drink, sugar skulls, and pan de muerto, a bread for the dead made especially during the feast. Valle further decorated the altar with his work, a series of traditional calavera figurines depicting death as a joyful character.

"This concept is really beautiful because you can reunite when you want to, and they are there with you." Nieves said. "It sort of takes away the fear of what death is"