Food for Everyone
Tiffany McKay | 11/25/2014, 3:34 p.m.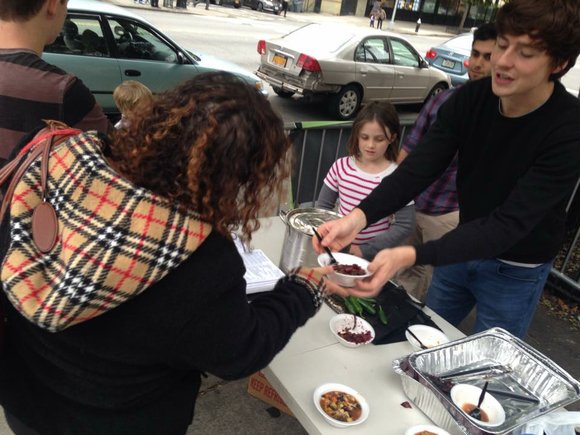 Food Not Bombs Harlem, a volunteer-based organization, distributes food to the community from its home base at 143rd and Amsterdam. Mainly comprised of City College students, the group will be in full force on Wednesday, handing out food to those who need it, in time for Thanksgiving.

Here, member Josh Bunnell, talks about the organization and its mission.
How long has your program been running?
Bunnell: Since we began in October of 2013, our member base has extended immensely. Each week since our shares began, we saw our recipient base growing and growing. About a month and a half ago we relocated to our current share site at 143rd St. and Amsterdam Avenue [from 138th]. The group interacts far more with community members here and our community reception has been extremely encouraging.
Tell us about your mission.
Bunnell: Food Not Bombs Harlem is about making a statement that every human being has the right to healthy food. [We] dream of a world where everyone has all of their basic human needs met. We do this through sharing a meal with fellow community members, and we share the message of community solidarity and putting an end to unnecessary food waste.
How will you make this happen?
Bunnell: We believe that the reallocation of taxpayer's money from warfare to domestic services such as housing, healthcare, and food would make the world a far better place. Furthermore, as there is substantial food globally to end world hunger, it is clear that there must be a better system in place to distribute the food more equitably.
What lead to the creation of your program?  
Bunnell: With the help of Sister Asantewaa Harris of the Community Vision Council in the Guillermo Morales-Assata Shakur Community and Student Center, future members of Food Not Bombs Harlem arranged to meet with Gordon Fitch, a long-time member of Food Not Bombs Bedstuy. Gordon Fitch has helped us immensely since our chapter's creation. Furthermore, Sister Asantewaa Harris facilitated the Corbin Hill Farm Food Share through the center, which aimed to bring healthy, affordable food to areas where food justice is an issue.  
---
Following the Thanksgiving holiday, Food Not Bombs distributes food on Thursdays at 4:15 P.M. until all of it is gone at 143rd Street & Amsterdam Avenue.