The fury McCulloch started
St. Louis American Editorial | 11/30/2014, 2:44 p.m.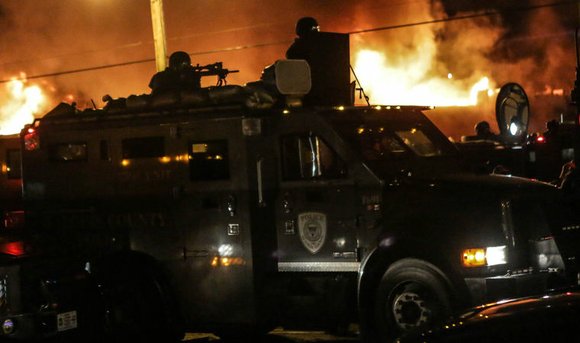 St. Louis County Prosecutor Robert P. McCulloch chose to announce the grand jury decision in the Police Officer Darren Wilson case in the dark of the night Monday, Nov. 24. He did this knowing that the grand jury's decision—that there is no probable cause to charge Wilson with a crime in the fatal shooting of Michael Brown Jr.—would inflame the Brown family and their many supporters. He did this knowing that some of this support takes the form of a determined protest movement that has kept the pressure on the Ferguson police (among other adversaries) since the day Wilson killed Brown Aug. 9.
McCulloch did this knowing that this protest movement, when enflamed, can take on a very different nocturnal character. In the turbulent days and nights of August, when Ferguson was placed forever on the map of the world's struggles, police authorities came to distinguish between day protests, which were multi-generational and invariably peaceful, and night protests, which were younger and much more unpredictable. Further, McCulloch decided to deliver this inflammatory news at night, when national intelligence about outside agitators' plans to infiltrate Ferguson when the decision is announced was so harrowing it helped influence Gov. Jay Nixon to preemptively declare a State of Emergency and conduct a press conference where the Governor rattled his saber like invading hordes were descending on Missouri.
The result of McCulloch's choices was an unmitigated disaster. Brown's family went blind with grief and rage, as anyone with a brain and a heart could have predicted they would, and the community convulsed around them.
This enraged community—gathered in the night—included many young people who have not been seen at Ferguson Police Department protests since the hot days of August. It also included many new faces, or rather, masks, because many of the new, edgier protestors who started showing up in recent weeks masked their faces (or shrouded them with bandannas). Some of these outside agitators are seasoned riot chasers, who seize any opportunity to fight the police at militant protests and who favor the rhetoric of fire and the practice of arson. This incredibly volatile mix of ingredients, handled by someone as brazen and reckless as McCulloch, exploded on West Florissant Avenue and South Florissant Road Monday night and burned to the ground.
Unless you live in a cave with no cable TV package, you know by now that a member of the extended Brown family, the youth's stepfather Louis Head, responded with rage when he heard the grand jury's decision publicly announced at the police department protest. This grief-enraged stepfather responded by chanting "Burn the (expletive) down! Burn the (expletive) down!" His chant was picked up by the people around him and spread, expressing the anger and frustration of the gathering crowd all too well. This momentarily violent chant, to be clear, is not the message that this family has conveyed up until now. The Brown family has consistently pleaded for peaceful protests. Further, it is clear from the scale and effectiveness of the arsons staged in Ferguson Monday that it was a planned operation and not the spontaneous outgrowth of one stepfather's fit of rage.
However, he will be blamed, and the family's name and message of peace will be tarnished. We consider that unfair, considering that this enraged stepfather had almost no power to influence the course of events, whereas Bob McCulloch held all the reins of power—and every single decision he made culminated in the disaster we all saw Monday night. McCulloch may have behaved as if he were proceeding by the rule of law and impartially administering criminal justice. But in fact, the cumulative effect of every single decision the prosecutor made—up until and including when he stepped up to the podium after 8 p.m. Monday night—had the effect of his chanting "Burn the (expletive) down! Burn the (expletive) down!"