Liston & Weston exhibit, Langston 'Insights,' Villafranca at Drom
Ron Scott | 10/2/2014, 3:05 p.m.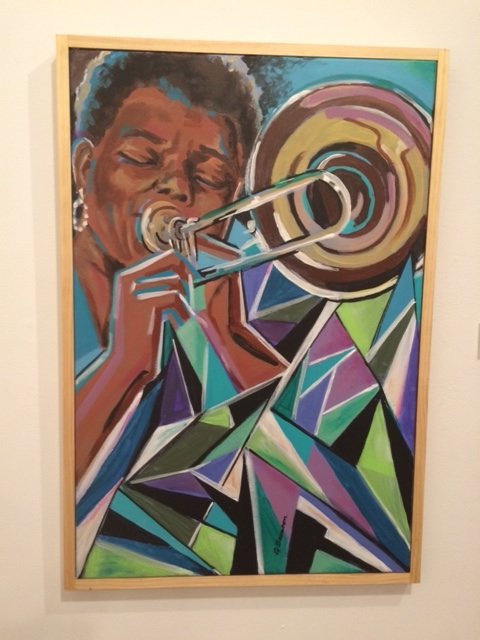 For pianist-composer Randy Weston, jazz is more than a flow of hip music with improvisational statements, it represents the roots of Africa, the origin of jazz. He is the music's griot, playing traditional African rhythms and offering stories connecting the historical and cultural aspects of Africa as it relates to its offspring, jazz.
When Weston met trombonist-arranger Melba Liston in the early 1960s at Birdland, he realized she was special. "Melba and I were on the same spiritual level. It was more than music, it was about the pride of our people," stated Weston. "Melba is one of the best arrangers on the highest level."
Weston and Liston became instant collaborators and friends—a relationship that lasted until her death in 1999—beginning with her arrangements of his "Little Niles" and "Seven Waltzes." Their collaborations on the suite "Uhuru Afrika" and "Highlife" are now jazz masterpieces, as well as their album "Volcano Blues."
Their collaborations have been compared with the team of Duke Ellington and Billy Strayhorn. "It is the spiritual recognition of our ancestors, the original revolutionaries," said Weston.
"Visions, Roots & Rhythms," an exhibition of music-inspired visuals celebrating the more than 40-year musical collaboration of the NEA Jazz Masters Liston and Weston will be on exhibit at the Kenkeleba House Gallery (219 E. Second St. at Avenue B) now through Nov. 8, presented by the Wilbur Ware Foundation and Kenekeleba. Hours are Wednesday through Saturday, 11 a.m. to 6 p.m.
The recent opening reception brought out many jazz musicians, including vocalist Tony Middleton, Michelle Rosewoman, Dick Griffin, Rene McLean, Leopolo Fleming, Larry Ridley and Jann Parker. The music of Weston and Liston was performed by pianist Rodney Kendrick, Ed Stout, saxophonist T.K. Blue, trumpeter Antoine Dyre, bassist Juney Booth, drummer Louis Hayes and vocalist Melba Joyce.
Some of the exhibiting artists who reflect their works from a traditional or abstract perspective include C. Daniel Dawson, Dick Griffin, Grace Williams, Errol "Mobutu" Reynolds and Ademola Olugebefola.
"Bravo, this exhibition is a shining visual tribute to the creativity of two masters of jazz, Randy Weston and Melba Liston," stated Diedra Harris-Kelley, co-director of the Romare Bearden Foundation. "Everyone should see this show and get to know the music that inspired it."
Oct. 17, the celebration moves to Harlem's Manhattan School of Music Borden Auditorium (122nd Street and Broadway) at 7:30 p.m. with "Melba Liston Remembered!" featuring the Randy Weston Quartet with Blue, bassist Santi DeBriano, percussionist Neil Clarke and special guest saxophonist Fostina Dixon. Conducting the MSM Jazz Orchestra will be Justin DiCioccio.
Tickets are $30 and $15 for seniors and students. For information, call 917-493-4428 or visit www.msmnyc.edu.
The artists' panel discussion, "Jazz & Fine Art: An Historical Pairing," returns to the Kenkeleba House Oct. 19, 3 p.m. to 6 p.m. Panelists will include fine artists Dawson and Charlotte Ka, writer-lecturer Maxine Gordon, musician-artist Dick Griffin and NEA Jazz Master Slide Hampton, with moderators Janice Robinson and Gloria Ware. No charge.
"Spiritually, this is Melba's year," stated Weston. "Dizzy Gillespie was the key to me meeting Melba. I can't praise him enough."