October 2014 dance calendar
CHARMAINE PATRICIA WARREN | 10/2/2014, 2:43 p.m.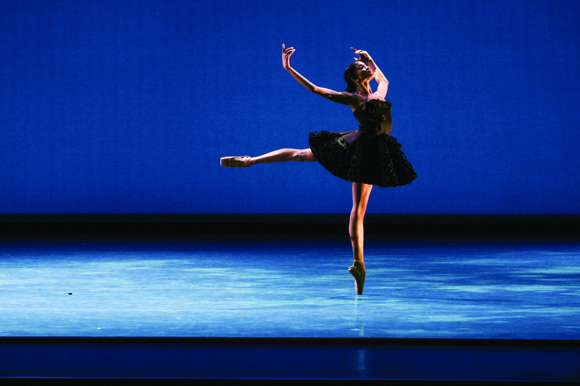 Topping this month's calendar is the very engaging Dean Moss with the premiere of "johnbrown" at the Kitchen, Oct. 16-25. After three years in the making, this work, described as a "wry meditation on the legacy of white abolitionist John Brown … coincides with 155th anniversary of Brown's raid on Harpers Ferry," features live performances by Kacie Chang, Julia Cumming (from the bands Sunflower Bean and Supercute!), Cassie Mey, Sari Nordman, Asher Woodworth and Moss, with video performances of an original script commissioned from Thomas Bradshaw by Tymberly Canale, Aaron Hodges, Okwui Okpokwasili and Pete Simpson.
Also featured is sound and music by Stephen Vitiello, an original song by Cumming, lighting by Vincent Vigilante and costumes by Roxana Ramseur. The show also integrates a number of teenaged production assistants.
A multidisciplinary artist, in "johnbrown," Moss "draws upon his own personal history as the son of civil rights activists" to tell this story. Additionally, this work is presented in seven semi-autonomous segments titled after individual articles of Brown's "Provisional Constitution of 1858." "johnbrown" "melds an immersive audio-visual design and rigorous physicality with a disruptive, impressionistic performance structure. It excavates contentious birthrights born of 'our peculiar institution,' while simultaneously exploring the gendered and generational processes at play in their perception," according to the press release.
For more information, visit www.thekitchen.org.
STILL RUNNING
Now through Oct. 4: Kyle Abraham/Abraham.In.Motion, with two programs of four works in two evenings: "The Watershed" (evening-length program) and "When the Wolves Came In," "Hallowed" and "The Getting." The works feature visual design by Glenn Ligon and original music performed by the Robert Glasper Trio. For more information, visit www.newyorklivearts.org.
Now through Oct. 5: The New York City debut of the France- and Argentina-based tango company Cia. Union Tanguera at the Joyce Theater, under the direction of Esteban Moreno and Claudia Codega, performs in the premiere of "Nuit Blanche" ("Sleepless Night"), danced by the seven-member company and accompanied by its four live musicians. For more information, visit www.joyce.org.
Now through Nov. 7: Ephrat Asherie Dance and Chloe Arnold's Syncopated Ladies, recipients of the CUNY Dance Initiative, present culminating works from their residency. "Asherie" (Sept. 18-Oct. 2) and "Arnold" (Oct. 27-Nov. 7) at the Gerald W. Lynch Theater at John Jay College. Reservations are required. For more information, visit www.jjay.cuny.edu/theater.
ALSO THIS MONTH
Oct. 3: Urban Evolution returns for one night only. Curated by Bronx Museum Community Advisory Council member MiRi Park, aka b-girl Seoulsonyk, this loft performance party welcomes contemporary dancers, hoofers, b-girls and New York hustlers and will showcase a variety of dance styles. Featured performers are Michelle Dorrance + Ephrat Asherie, Darrin Wright, Cebo Terry Carr with James Cricket Colter, Hideki Takahashi and Hurricane, Nia Love with Kojo Odu Roney and Antoine Roney and Sal Rentas. Free admission and bar, with donations suggested. For more information, visit www.bronxmuseum.org.
Oct. 3-4: Dante Brown|Warehouse Dance shares the evening with boomerang at Dixon Place. Brown will present "Package," "a male trio examining the term bromance," while boomerang will share "For the Toward," where "two men coax, ride and hurl steel, the loci of their union and division," notes the press release. For more information, visit www.dixonplace.org.