Remembering Herman Ferguson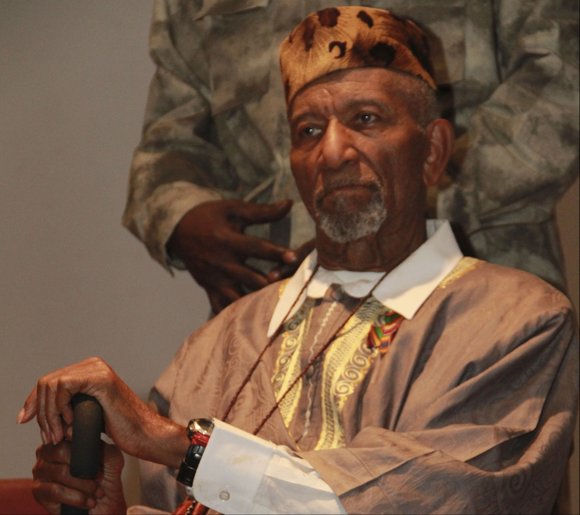 But he was feeling the calling of the family, "children growing up and missing important times in their lives," and he wanted to clear his name of "the false charges." In 1989, urged on by activists Sonny Abubadika Carson and Elombe Brath, Ferguson voluntarily returned to America, where he was immediately arrested at New York City's JFK airport.
After his 19 years in exile in Guyana and his stint in New York state prisons, the late Judge Bruce Wright ordered his release in 1992.
Ferguson, in his 70s, hit the ground running. Upon his release, he dove deep back into the Black liberation movement. He called up surviving members of the Organization of Afro-American Unity to reclaim the distorted mainstreaming of Malcolm X's legacy. The Malcolm X Commemoration Committee arose phoenix like, with members such as Jean Reynolds, Yuri Kochiyama, Sam Anderson, Butch Gladstone, attorney Joan Gibbs, Bruce Ellis, Rosa Ellis and Zayid Muhammad.
Aside from joining the annual pilgrimage to Malcolm X's gravesite in Ardsley, N.Y., they began an annual dinner tribute to the families of Black political prisoners. Furthermore, for 10 years they published the Afrikan Liberation Front newspaper Nation Time, and Iyaluua and Herman Ferguson, both teachers, enthusiastically launched "Malcolm X in the Classroom" with an annual essay competition and oral history presentation.
As if all of this was not sufficient, in 1997, Herman Ferguson and the late Safiya Bukhari-Alston created the Jericho Movement to highlight the existence of and free stateside political prisoners. From Mumia Abu-Jamal to Sekou Odinga, Mutulu Shakur and dozens of others, Herman Ferguson fought for their release.
He still wasn't done, and this reporter would often tell him, "You swear you're 15—all that energy you have!"
Deep into his 80s, alongside his wife, Herman Ferguson penned his long-awaited memoir, "An Unlikely Warrior."
"This is considered a must-read for serious students of Black Nationalism and of the legendary Black radical tradition,"said Zayid Muhammad, MXCC press officer. "His was the only draft in my life that I ever answered. Make no mistake about it, Baba Herman was our rock, our glue, who held us together and shaped our direction, identity and character."
Karima Nilaja Blaize shared that Thursday "was bittersweet for me, as it was not only the day that I celebrated the birth of my youngest children, Justin and Jarrett, but also a day that I mourn a great loss—my grandfather. As the patriarch of my family, 'Colonel' was the strongest man I have ever known. One who has taught me so much about who I am, where I come from and the importance of fighting for what I believe in. One who was so strong that he was able to save me by literally plucking me from the water after I had fallen out of a boat as a child, and then endure the many years of the craziness that was Karima that followed. And, of course, a man so strong that he could do this while loving my grandmother, Iyaluua, to the moon and back and serve as the patriarch of the Black Nation."