Talking SCHOP! Sunday antics in Brooklyn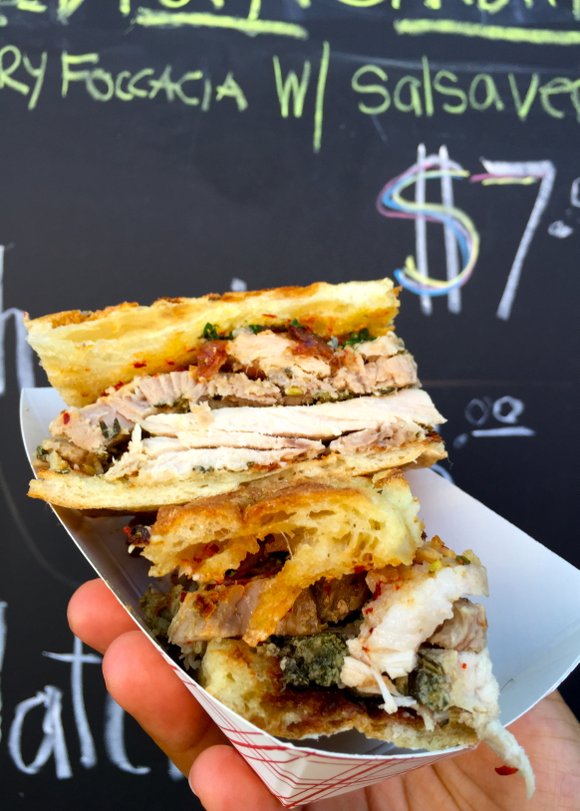 Once this fall routine starts to settle in, time just seems to go far, far away. The opportunities to connect with family and friends seem to wane, but we must continue our efforts to create those special times to remember forever.
With the spirit of capturing the moment, I grabbed two cups of coffee from Les Ambassades (I used every fiber in my body not to get an almond croissant) and headed over to my good friend's house to catch up properly. We sat out on the deck chatting, laughing, sipping coffee and finishing with a cathartic cry together.
I reminded my friend that the Atlantic Antic (@AtlanticAntic) was going down that day, the premiere fall street festival held in Brooklyn. She was down to go, so a plan was made and we headed out to see, eat, shop and just be.
Like true Harlemites, we got a little lost in Brooklyn, entering the mile-long festival in the middle. The plan was to start at the water and end at Barclays Center. Also, starting in the middle allowed us to make note of favorite vendors to shop and preview and to line up our must eats.
We started with a little morsel from Mile End Deli (@MileEndDeli). Their awesome smoked meat sandwich, also known as pastrami on rye with mustard and a pickle, took me back to the New York City classics. The bread was fresh and the meat was gorgeous. I'd wanted to try Mile End. Now I must go for everything else!
Our next bite was scoped out and slated from first pass when all we saw was a sign that said "EAT" and the words "roast pork sandwich." However, the good people of Building on Bond (@BuildingOnBond) lied. LIED! The sandwich was a beautiful porchetta with all of its fatty goodness and cracklings on house-made rosemary focaccia with salsa verde. That sandwich was so damn good it had to come home with me so I could have a private moment with it.
After those two morsels, we were fortified to shop Martine's Dream (@DreamMartine) for her uniquely beautiful garments and visit with artist Joseph Barral to ogle his whimsical robot lamps. The artists, artisans and their work were out in full swing and made a great showing. Plus, we made a couple of dips into the fun shops lining Atlantic Avenue. Thanks Twisted Lily (@TwistedLily360) for the samples! The shop is beautiful.
As the festival began to wind down, we realized the day wouldn't be complete without the ubiquitous festival treat—grilled corn on the cob. There was hot, buttery, spicy, cheesey goodness all over our faces.
Finally, the sweet bite from Steve's Authentic key lime pie (@KeyLimePie) hit the tangy and tart spot for the day. Graham crust and whipped cream couldn't be helped. OK, so the true last bite was ice cream from Cold Stone Creamery (@ColdStone). I can't stop myself around their banana ice cream with dark chocolate chips. It's a problem.
With weary legs, full stomachs, shopping bags and smiles on our faces, we hopped on the first train smoking back to Harlem. We officially reconnected and refortified our friendship. We're always ready for the next adventure locally or anywhere!
Happy eating and thanks for reading!
Kysha Harris is a food writer, culinary producer, consultant and owner of SCHOP!, a personalized food service offering weekly and in-home entertaining packages. Questions? Comments? Requests? Feedback? Invitations? Email her at kysha@iSCHOP.com, follow her on Twitter and Instagram @SCHOPgirl and on Facebook www.facebook.com/SCHOPnyc. For even more recipes, tips and food musings, subscribe to her blog at www.talkingSCHOP.wordpress.com.