Geno Smith has to avoid becoming his own worst enemy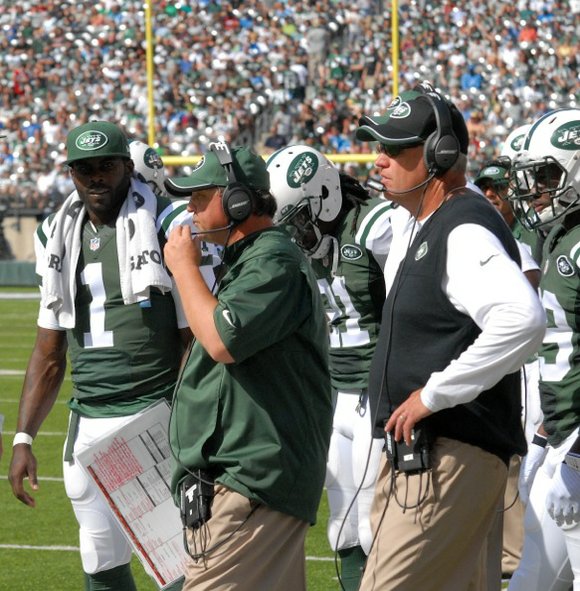 It was only a few years ago that New York Jets backup quarterback Michael Vick wasn't as welcomed on an NFL field as he is now. With the Jets at 1-3, chants of "Michael Vick" have begun.
The decibels weren't as loud as they were for New York Yankee retiree Derek Jeter, but they've begun, so much so that starting quarterback Geno Smith responded to an annoyingly obnoxious heckler at the end of Sunday's game. In an effort to continue being an upstanding, responsible, conscientious NFL player, Smith immediately apologized at his after-game press conference.
Was Smith's response directed solely at his hecklers, or at his own mistakes, at his inability to have an impact on the team, at their defensive mistakes that allowed Detroit to drive 90 yards downfield in 14 plays for a touchdown?
Maybe Smith's response was directed at offensive coordinator Marty Mornhinweg's (limited) play calling, and at Jets General Manager John Idzik for holding on to team owner Woody Johnson's money, instead of contracting more competitive players. Maybe Smith's response was also directed at Head coach Rex Ryan, while questioning his knowledge of the offense. Maybe Smith's response was directed at NFL schedulers who paired the Jets back-to-back against six top-tier teams.
There's plenty of blame to go around, but to Ryan's credit, he's publicly stated that unless there's an injury, Smith is his quarterback.
For the Jets to develop as a team, this support is important. Vick fans love Vick; they remember his exciting play. But at 34 years of age, what does he have left? Pencil him in if the interest is an immediate win, but there is no guarantee. Remember, Vick has only started in 11 games in the past two seasons.
The Jets travel to San Diego to play the 3-1 Chargers Sunday, then return home for the Denver Broncos. They could be 1-7 or 2-6 by the middle of the season. That won't endear Jets fans to Smith, make them sensitive or understand that he's still learning. Without more wins, there'll be more heckling—and a few more expletives.