Tackling Food Insecurity in Harlem
Michelle Thompson | 10/7/2014, 11:06 a.m.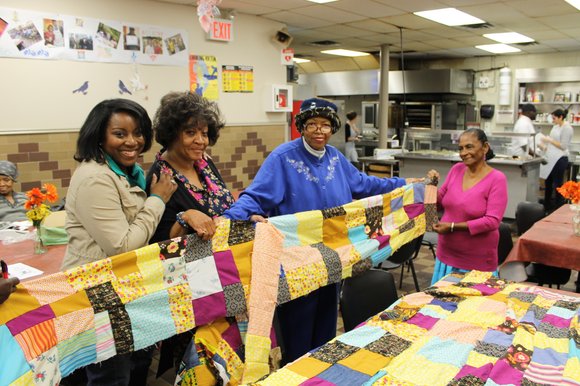 Calvin Hicks, 62, was a Merchant Marine and had to have surgery and spends time at the Center while recovering. He likes to play dominoes. "There are people who can't afford to put food on the table. The staff here treats them so well. That's why I like to come here."
Margarette Purvis, the President and CEO of Food Bank For New York City, became involved with eliminating food insecurity because her grandmother instilled in her that their Christian faith could only be seen through service. "Grannie's mantra was 'show in your actions.' This meant that as a young person, I would join her in bringing meals to churches and to Mississippi's Whitfield Hospital for the Mentally Ill because 'But for the grace of God, so go I.'"
Most of the people who provide services at the food pantries and soup kitchens are volunteers and the majority of their funding comes through donations. September was Food Bank For New York City's Go Orange to End Hunger™ month, a citywide call to action for all New Yorkers to get involved and take action to fight hunger in their communities. Henri Bendel hosted a Shop 'Til You Drop For Go Orange Spree, with 10% of the sales from that day. Go Orange is not the only time the organization raises significant funds indeed, the upcoming Food Network New York City Wine and Food Festival, October 16 – 19, also contributes significantly.
Ultimately, Purvis believes that respect starts with noticing what is going on around you. "Just because people don't have money doesn't mean that they should not live with dignity."
Through Food Bank For New York City, New Yorkers for whom food insecurity is a nagging issue, receive dignity through the multitude of services it provides. To support their mission, you can become a volunteer, make an out of pocket donation, or support the upcoming Food Network New York City Wine and Food Festival at www.foodbanknyc.org