De Blasio's executive order increases, expands living wage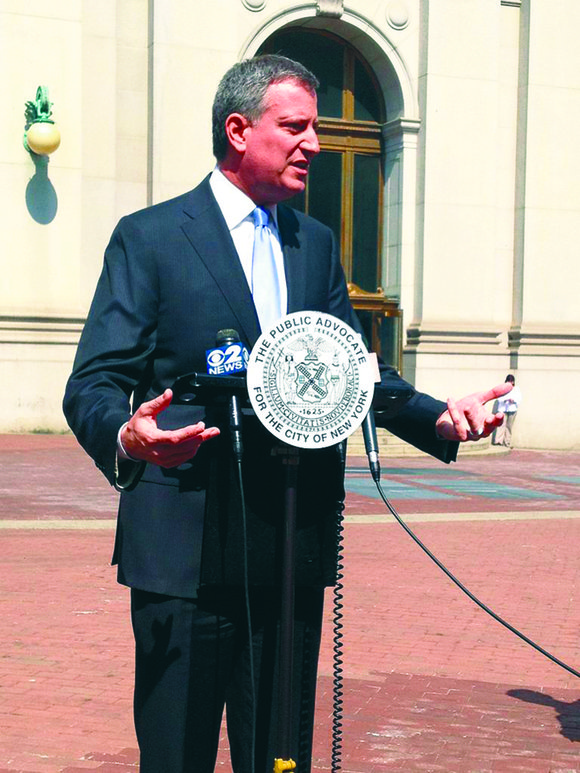 Amsterdam News Staff
Last week, New York City Mayor Bill de Blasio signed an executive order to increase and expand the living wage to benefit more New Yorkers.
At City Hall, while announcing the signing of his executive order, De Blasio said "$13.13 for those without benefits, $11.50 for those who have health insurance and other benefits. This applies to employers, excuse me, employees, I should say, of large groups of employers who do business with the city. Meaning, there's a lot of companies that do business with the city, that come to the city for subsidies. We think if you want a subsidy, you can prove the need for a subsidy. We want to help you achieve your goals, but we have a standard we hold."
De Blasio continued, "We need to make sure people are paid a living wage. That's a fair exchange for that subsidy. What it means—let me put this in real terms—what this means, is the difference between the $8-an-hour minimum wage right now, and the $13.13 that will take effect immediately for those employees of companies that get subsidies going forward. That is a difference of over $10,000 dollars in earnings a year. $10,000. Someone who would have made $16,000—not enough to get by—will now make over $27,000 a year. And that's a difference maker."
According to de Blasio, any project that gets more than a million dollars in city subsidies qualifies, stating that it will reach people in lines of work like retail, food services and construction.
Advocates for a raise in the minimum wage have said this action was a long time coming. Shantel Walker, a Papa John's employee who makes $8.50 an hour and who is a member of Fast Food Forward, praised de Blasio's actions.
"Nearly two years ago, 200 fast-food workers in New York City walked off our jobs, calling for $15 and union rights," said Walker in a statement. "Our demand may have sounded crazy at the time, but more and more, $15 is becoming a reality for workers across the country. As we've gone on strike again and again and a movement that started here in New York has spread to 150 cities, $15 suddenly doesn't seem so impossible. From Seattle to Los Angeles to San Francisco and now New York, cities are raising wages so we don't have to rely on public assistance to support our families."
Walker also stated that the recent developments are a sign, to her, that minimum wage advocates are on the right side of history.
"While he works with Gov. Cuomo to raise wages for all New Yorkers, Mayor de Blasio's move today to put workers at city-subsidized projects on a path to $15 is a sign that we are winning," Walker said. "It's a step in the right direction and helps push us forward in our fight for $15 for workers across the entire country."
While the city's working class has achieved a major victory, the state's working class is still making the push collectively. Andrew Friedman, co-executive director of the Center for Popular Democracy, pushed for Albany to follow suit in a statement.
"The Albany wage board should eliminate the tipped minimum wage to make this vision a reality and end the wage segregation that traps workers in poverty—workers who are overwhelmingly female and of color," said Friedman. "Partnering with progressive local, state and federal leadership means we can work together to afford a dignified life for all residents, which means comprehensive policies that include a $15 minimum hourly wage, a predictable and fair workweek, paid sick days and a healthy macro-economy that nurtures equity, creates viable new jobs and protects us from risk-taking by financial institutions."
Back in the five boroughs, Brooklyn Borough President Eric Adams praised de Blasio for the executive order, citing it as another example of New York City leading the pack. He said that de Blasio had "reaffirmed his commitment to civic innovation and our residents' welfare by raising the living wage and furthering its reach to thousands more workers. This is a measure that recognizes the cost of living challenges that New Yorkers face and builds a meaningful bridge over the inequality gap we have sought to close across Brooklyn and the rest of the five boroughs."