Eric Garner's family plans to slap city with $75 million lawsuit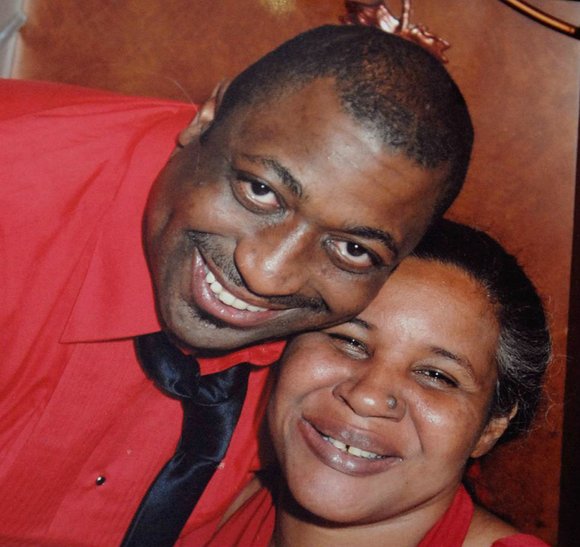 Special to the AmNews
The family of Eric Garner, a Staten Island man who died after being placed in an apparent prohibited chokehold by a police officer in July, plans to sue the city and the New York Police Department for $75 million.
A notice of claim the family filed and sent to New York City Comptroller Scott Stringer Monday said Garner's "wrongful death" is a result of a "negligently and recklessly" applied chokehold. It said officers "placed pressure on his body, causing him to be unable to breath," and even though Garner repeatedly said "I can't breath," the officers did not "released the chokehold ... and the pressure" they put on him.
"[The] officers failed to use proper police procedure and tactics as reasonably prudent," the notice reads. "Rather, [officers] performed a long banned chokehold maneuver banned by police procedure and police guidelines."
Some of the claims in the notice include pain and suffering, assault, battery, negligent supervision and negligent training, and violation of civil rights.
July 17, police officers approached Garner, 43, thinking that he was selling untaxed cigarettes. The incident was captured on a cellphone video by passerby Ramsey Orta and showed NYPD officer Daniel Pantaleo placing his arm around Garner's neck in an effort to take him to the ground because he was resisting arrest. Garner could be heard saying to the officers, "I can't breathe."
In early August, the city medical examiner's office ruled Garner's death a homicide as a result of the chokehold. They said his health conditions, obesity and high blood pressure, were also contributing factors to his death.
The caught-on-camera chokehold death sparked nationwide protests and debate about race relations, the use of excessive force and police brutality against Black and Latino men. The Rev. Al Sharpton led a march on Staten Island, calling on the borough's district attorney, Daniel Donavan, to prosecute the officers, and for the federal government to take over the case.
The Patrolmen's Benevolent Association, the union that represents NYPD officers, did not immediately provide a comment. The union has repeatedly denied that Pantaleo used a chokehold maneuver.
Along with Pantaleo, the notice lists police officers Justin D'Amico, Craig Furlani, Christopher Maldonado, William Meems and Mark Ramos as defendants. It said that two other officers were "as yet unidentified."
The lawsuit was filed by the office of renowned attorney Sanford Rubenstein, who also represents Garner's family. Rubenstein is facing accusations that he raped a woman after Sharpton's birthday party last week in Manhattan. He has denied any wrongdoing.
Tuesday, the National Action Network said in a statement that the Garner family will decide later whether to keep Rubenstein as their attorney. Sharpton will make the announcement with the family at Saturday's weekly NAN rally.
"Being that the allegations against Mr. Rubenstein just surfaced on Sunday and Monday, it is clear whatever we would have decided to do could not have been decided or changed by yesterday [the deadline date.] We must protect the family's rights. No one should read anything else into it," the statement said.
A spokesman for New York City Comptroller Scott M. Stringer said Tuesday that they have received the notice and it is now under review.
A grand jury began hearing evidence last Monday to determine if there will be criminal charges. Pantaleo and the other officers were not arrested and charged. They were placed on modified reassignment, pending the outcome of the case. Four emergency service workers, who refused to give Garner medical attention at the scene, were suspended without pay, pending the outcome of the investigation.
The case has put the NYPD under intense criticism. It led Commissioner William Bratton to unveil a program that will retrain some 35,000 NYPD officers. Bratton has also supported Public Advocate Letitia James' proposed bodycamera pilot program.