Geoffrey Holder, a man of magic and majesty
Herb Boyd | 10/9/2014, 11:24 a.m.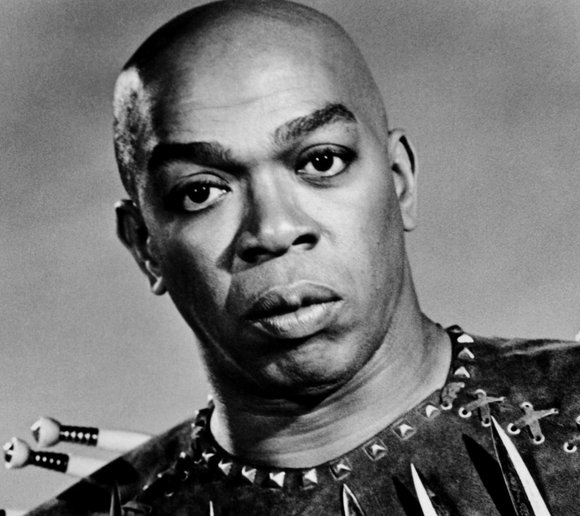 His voice arrived first, deep and sonorous, prefiguring a man of enormous life and vitality. Such was the often imposing but impressive visage and physique of Geoffrey Holder, who many remember mostly from his promotion of 7-Up. But the multitalented Holder was much more than a pitchman. This artist with almost magical gifts joined the ancestors Sunday, Oct. 5 at his home in Manhattan. He was 84.
According to Charles M. Mirotznik, a spokesman for the family, Holder's death was the result of complications from pneumonia.
Standing over 6 feet 6 inches, Holder commanded practically every room he entered, and the niches not covered by his giant-like presence were filled with his resonant voice and laughter, his flamboyant style and persona—something magisterial, a je ne sais quoi.
If viewers were reminded of the Jolly Green Giant or Mr. Clean by his many films and Broadway productions, it was understandable because he had that same powerful countenance, embellished by a graceful sense of movement and artistic savoir faire. Even the swerving arc of his autograph provides some semblance of his total absorption in the theater, dance and art, as writer and dance authority Jennifer Dunning captured so well her biography, "Geoffrey Holder: A Life in Theater, Dance and Art." "Who is Geoffrey Holder?" Dunning asks rhetorically in the preface to her book. "He paints and photographs, but he has never wanted to be called simply an 'artist.' He dances and choreographs, but he has no desire to be categorized as a 'dancer and choreographer.' He designs costumes and has directed shows on Broadway, but do not call him a 'man of the theater.'"
Through these things he chose not to be called, we gather some idea of the complexity of his life, the expansiveness of his endeavors and successes.
"Life is strange and sweet and divine," Holder told Dunning during one of her many interviews with him as he folded his long frame into a delicate white chair in the garden corner carved out by his wife, the actress and dancer Carmen de Lavallade, in their loft in Soho. Dunning noted that Holder's paintings were everywhere in the apartment. And Holder, throughout his remarkably productive career, seemed to be everywhere.
I had not seen him since his appearance at a book signing 12 years ago. A long line of fans stood patiently to get his autograph in Dunning's book, which he clearly seemed to relish.
I recommend that you pick up a copy of Dunning's biography, published by Harry N. Abrams, which is a brilliant assemblage of words and images.