'Keep On Keepin' On,' Ravi and Chick reviews
Ron Scott | 10/9/2014, 12:21 p.m.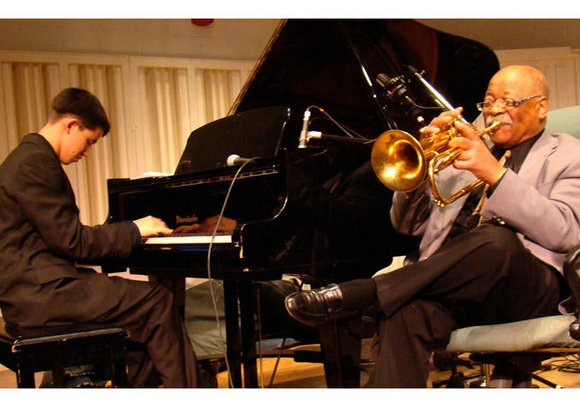 'Keep On Keepin' On' is one of the best films of the decade. It chronicles the life of legendary jazz trumpeter Clark Terry (age 89 at the time of filming) focusing on a period when he was battling diabetes-related complications while working with his young protege, pianist Justin Kauflin (then age 23). There are two relationships in play here between Terry and Gwen, his wife, and Terry and his student, both reflecting a sincere bond of love, courage, compassion and friendship that rarely appears on the screen.
Kauflin, who lost his vision at the age of 11 to a rare retinal condition, often stayed up with his mentor into the early morning, studying melody and rhythm. Terry has also lost most of his vision as a result of diabetes. Some days, when Terry wasn't able to sit up, they worked as he lay in bed. Living in Virginia Beach with his family, Kauflin is seen making regular visits to his teacher's home in Pine Bluffs, Ark.
The film points out with humor how the older musicians in Terry's hometown of St. Louis were not eager to help him. "They told me when I play to sit straight, grit my teeth and wiggle my ears," he said. At that moment, he promised he would always help young musicians.
His first student was a 12-year-old named Quincy Jones, who appears in the film. Said Terry, "Quincy was so skinny, if he stood sideways, he would be marked absent."
Over the years, Clark has mentored many students, including Miles Davis (there is a filmed interview with Davis), Herbie Hancock and Dianne Reeves, who offer inspiring accounts of their mentor. Terry had a chair in the Count Basie, Duke Ellington and Quincy Jones big bands in the late 1940s and 1950s. He later hit a high note as the first Black musician in the Tonight Show Band with Johnny Carson.
"Keep On Keepin' On" was five years in the making and is the debut for director and co-screenwriter Alan Hicks, who came to the United States from Australia to make this film. As a young drummer, he was also Terry's student.
The audience visits the Terrys at their home, the hospital and Washington, D.C., at the Thelonious Monk International Jazz Competition. As Terry and Kauflin talk about dreams, the elder musician stated, "Dreams change. My new dream is helping young people with the music, simplicity." We see the fears and triumphs of the duet as they share their touching uptempo song of musical notes and life's complexities.
"Keep On Keepin' On" is currently playing in Manhattan at the Lincoln Plaza Theaters (1886 Broadway) and the Landmark Sunshine Theater (143 E. Houston St.). For times, check theater schedules.
The Ravi Coltrane Quartet was a burning force during their recent stand at the Village Vanguard. The group included pianist David Virelles, bassist Dezron Douglas, drummer Jonathan Blake and Coltrane on saxophones. They opened with a fierce interpretation of Thelonious Monk's "Espistrophy." The 10-minute excursion kept the audience on the edge of their seats as Virelles played deep, blossoming chords while Blake dropped rapid torpedoes intertwined with walking basslines and Coltrane's blistering sax improvisations.