Dr. Haki Madhubuti discusses Malcolm X at Adelphi University
Herb Boyd | 10/16/2014, 4:07 p.m.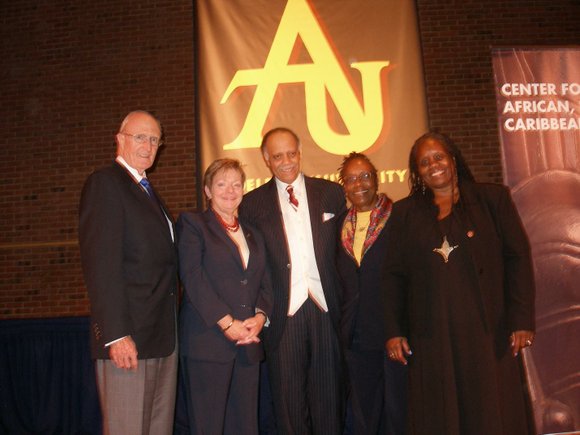 Over the past months, we have lost such iconic figures from the literary canon as Maya Angelou, Walter Dean Myers, Amiri Baraka and Ruby Dee, to mention but a few. Thankfully, there are still a number of them currently active, and one of them, Dr. Haki Madhubuti, was nearby recently for a lecture at Adelphi University in Garden City, N.Y.
Madhubuti, a renowned poet and founder and publisher of Third World Press, was the featured speaker at the invitation of the James Baldwin Lecture on Literary and Social Criticism and the Center for African, Black and Caribbean Studies. The topic was one near and dear to the poet—"The Malcolm X Legacy: What It Means to Be Black and Literate in the 21st Century and the Importance of Art in the Maturation of All People."
After the formal introductions from Robert A. Scott, president of Adelphi University, and Dr. Marsha J. Tyson Darling, professor of history and director of the Center for African, Black and Caribbean Studies, Madhubuti opened his remarks by noting the importance of Paul Robeson, W.E.B. Du Bois and Richard Wright to his literary, academic and activist career. "Richard Wright's books introduced me to the world of ideas," he began, "and before hearing Malcolm, I was suffocating. He was my S.O.S."
Malcolm X (El Hajj Malik El Shabazz), the author explained to the students filling the ballroom in the Ruth S. Harley University Center, "was a true revolutionary who possessed both street smarts and matchless debating skills. Malcolm was a man of great integrity and was incorruptible. Those are the attributes that drew me to him."
He observed that Malcolm was always reading a book, "but he was also listening very carefully to what you were saying." Malcolm, like Wright and Du Bois, was a man of ideas, "and ideas are at the core of one's wisdom."
Madhubuti said that he could discern who a person is and where that person is coming from by visiting his or her home. "There are four things that I check out immediately upon entering," he said. "Is the house clean, what photographs or posters you have on your walls, what books are on your shelves and what DVDs and CDs are in your collection. These things reflect who you are."
He then praised his wife and advised the young people to "marry someone smarter than you are," which he admitted he had done and that is a testimony to his success.
Then he stepped away for a moment from his prepared notes and declared, "I unapologetically claim ownership of America!" That was a bold statement after his comment that we do not live in a post-racial nation, despite having a Black president.
This claim of ownership, he said, comes by virtue of the sweat and blood Black workers expended building America without compensation.
Who you are, he added, is perhaps one of the most important questions you can ask yourself. "If you don't know who you are, then anyone can name you," he said.
There is no doubt Madhubuti knows who he is. The company he runs, the writers he has published and his own corpus of distinguished and award-winning books confirms his status as one of the nation's most significant thinkers and public intellectuals.
He closed his long lecture with readings from his collection "Liberation Narratives," including poignant lines from his poem "Art: A Comment," in which he read—"do not seek immortality, seek ears and eyes." And there's a good bet that all these things will be his who found himself by discovering art.