BSRC hosts annual gala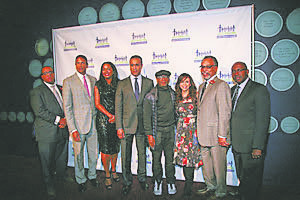 Monday, the Bedford Stuyvesant Restoration Corporation honored Rosie Perez, William Thompson Sr. and Bruce Gordon at the annual Restore Brooklyn Benefit Dinner, held at Jazz at Lincoln Center. The evening featured a special performance by Grammy Award-winning R&B singer-songwriter Chrisette Michele and was emceed by CBS anchorman Maurice DuBois.
Director Spike Lee presented Rosie Perez, author, actor, activist and co-host of "The View," with the Jacob Javits Award for Excellence in Public Service. William Thompson Jr. presented Thompson Sr., a former justice of the Appellate Division of the New York Supreme Court and New York state senator, with the Restoration Founders Award for Excellence in Community, and Janice Savin Williams and Christopher J. Williams presented Bruce Gordon, business leader and former NAACP president, with the Robert F. Kennedy Award for Exemplary Corporate Citizenship.
Restoration is working to revitalize Brooklyn by ensuring that all members of the community have an opportunity to advance while protecting the affordability and preserving the culture of the community. The benefit celebrated Bedford Stuyvesant Restoration Corporation, the nation's first community development organization, working to strengthen the community for nearly 50 years. Proceeds from the evening will support Restoration's Economic Solutions Center, a comprehensive, programmatic approach that strengthens the economic stability and well-being of families throughout Brooklyn.