Ebola: Fear Factor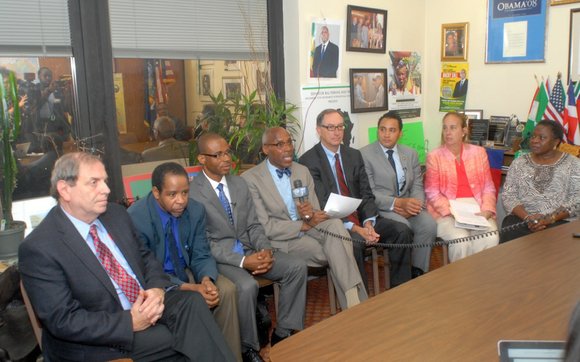 Special to the AmNews
This Tuesday, Mayor Bill de Blasio told a gathering at an Ebola education forum at the Jacob Javits Center, "This city has been preparing and drilling for weeks and weeks. And we know that we're ready. And—thank God—not a single confirmed case of Ebola in New York City or New York state."
Hysteria, fear and paranoia have made Ebola the most trending topic everywhere, and now reports are that a person in Newark, N.J., might be infected with the disease.
The convention center was like a movie set Tuesday as Gov. Andrew Cuomo, de Blasio, 1199's George Gresham and white-coated and green-scrub-wearing medical personnel all converged.
Cuomo addressed the thousands of health care workers who attended the Ebola education session, co-hosted by the Greater New York Hospital Association/1199SEIU Healthcare Education Project and the Partnership for Quality Care, who, along with the Centers for Disease Control and Prevention, demonstrated new guidelines and techniques proposed by federal health officials.
Cuomo said, "What's going to kill this disease is knowledge and training and preparation. Having the right protocols, having the right knowledge, having the right equipment and doing it right and making sure we make no mistakes. ... We're working with the federal government. We're working with the CDC. Coordinated on every level, from transportation workers in the MTA to airport workers at JFK and LaGuardia to the health care system."
The Department of Homeland Security has stated that any person coming in from the affected nations in West Africa must enter through one of five airports for screening: JFK, Newark Liberty, Washington's Dulles, Atlanta's Hartsfield-Jackson and Chicago's O'Hare.
At the health forum Tuesday, de Blasio proclaimed, "We have the world's strongest public health system here in this city and state. We have the best-trained people. City and state are constantly in dialogue, constantly adjusting strategies, working together, working with the CDC. Voluntary hospitals, public hospitals—working as one. Labor and management working as one. Every emergency room at HHC hospitals has been retrained in safety protocols. Training is being provided for all staff who work with high-risk patients. And we know if we do, if, God forbid, we do have a patient with Ebola, there are … very clear protocols—to diagnose, to isolate and to treat. Every hospital in the city is working with those protocols and is ready. And we've taken special efforts to create at Bellevue the capacity for whatever situation is thrown at us."
New York has designated eight hospitals as primary treatment centers for Ebola, although all hospitals are expected to have at least one isolation room that could handle a case. Five of the hospitals are in New York City: Bellevue Hospital Center, the city's flagship public hospital; Montefiore Medical Center; Mount Sinai; New York-Presbyterian; and North Shore-Long Island Jewish Health System.
New York City, home to a large population of West Africans in the Bronx, Staten Island and Harlem, has yet to report any cases. Some 150 representatives of the various city unions gathered with top officials from the de Blasio administration in lower Manhattan at the headquarters of the Sanitation Workers Union for Ebola education, complete with a demonstration on what to do in case of an emergency, including how to properly wear protective clothing, based on World Health Organization protocols.