Sisters Building Sisters in Brooklyn building in the community
Joli Eubanks | 10/23/2014, 3:21 p.m.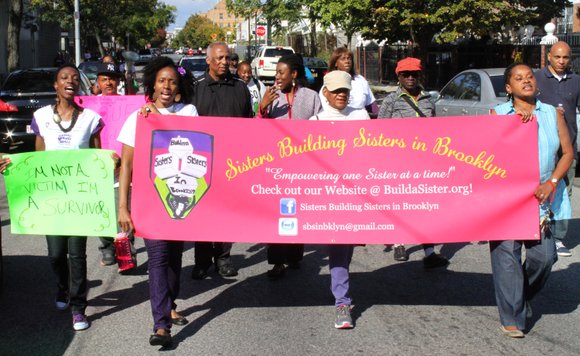 Sisters Building Sisters in Brooklyn is an up-and-coming nonprofit organization providing empowerment opportunities to women and girls living in underserved communities. They have chosen to target women and girls from underserved communities because "they tend to be the most neglected and forgotten when it comes to the provision of empowerment opportunities and resources for upward mobility," said Nyasha Adams Rivera.
Joyce Scott Brayboy added, "Our services include workshops, seminars and events that are specifically tailored to the needs, issues and concerns of women and girls living in the communities served."
"The central idea behind all that we do is to promote growth in the areas of self-esteem, self-worth and self-love," concluded Rosalyn McIntosh.
In recognition of October as Domestic Violence Awareness Month, they hosted two events this past Saturday focused on raising awareness in the community: a workshop titled "How to Know If It's Love or Control" and their first ever "Walk to End Domestic Violence in East New York and Abroad." Both events successfully drew in victims, survivors and advocates from all over the city. Attendees for the walk included nearly 50 community residents, community-based organization leaders and elected officials, including Brooklyn Borough President Eric Adams, Assemblyman-elect Charles Barron, Councilwoman Inez Barron and Brooklyn Community Board No. 5 President Andre T. Mitchell.