From LA to Harlem's Studio Museum
Malcolm Philips | 10/24/2014, 2:53 p.m.
Lauren Halsey is doing big things. This year alone, the 27 year-old artist graduated the Yale School of Art with a MFA in Sculpture. Halsey recently completed a much sought-after residency at Skowhegan and was awarded a coveted year-long residency at Harlem's Studio Museum – all while staying true to her LA roots. We caught up with the young artist at Sylvia's on Lenox Avenue in Harlem.
Q: How'd you get started as an artist?
A: I was inspired by one of my teachers, Paul Gelman. He encouraged me to apply to art school, because I had no formal training. So I began crafting these environments, "worlds", using photoshop, and when I reached Yale they became fully realized spaces.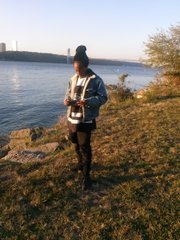 Q: How does your personal life influence your work?
A: Memories of Sunday morning football with my father; His hopes and dreams for the neighborhood; Black LA; Parliament Funkadelic; Outer Space.
Q: Are you making a statement with your work?
A: I hope so! (Laughs!)
It's about South Central & the East Side – those neighborhoods are pots of gold. But it's also about Ancient Egypt, myth-making and re-imagined pasts. I remember how my father would come in the house with pictures of Kings and Queens and tell me, "that's who we are." His research about Pharaohs and pyramids and-Blackness – really stuck with me.
Q: What's your creative process?
A: It usually depends. I combine things I like or am drawn to hand painted signs, LEDs, Lasers, iridescence, mirrors, church programs, anything related to black life as well.
Q: Do you have any major influences?
A: P-Funk. They came out and presented a real alternative. They were black people in a different context, in their own space, producing content freely.
Q: Are you influenced by any artists?
A: There was this one artist – A super hero named Okeneus the LoveGod – a street artist from LA. I actually did my thesis on him at Cal Arts. He was a street artist who would wheat paste these huge pieces out on Western. I don't know what ever happened to him, if he's still out there but I saved a bunch of his work.
Q: What's your first impression of Harlem?
A: There's so many pedestrians! You'd never see that in LA. There's so many black people here, it's beautiful. The street vendors, the natural juice...And the Apollo theatre is right here, I'm pretty excited about that.
Q: What do you plan to do here?
A: Ideally, I want to insert myself into the mix. I want to set up a table out there with the street vendors, I want to explore Harlem and archive Black Life here- I want to fall in love, to grow, to involve people with a new environment.
Q: Where can people see your work?
A: My website is under construction but you can check the Studio Museum website for upcoming Open Studios.
Q: Any advice for up & coming artists?
A: Do it fearlessly. And experiment.
-Malcolm Phillips, Am News Intern​