Detroit Jazz Festival, no fillers
Ron Scott | 9/11/2014, 1:16 p.m.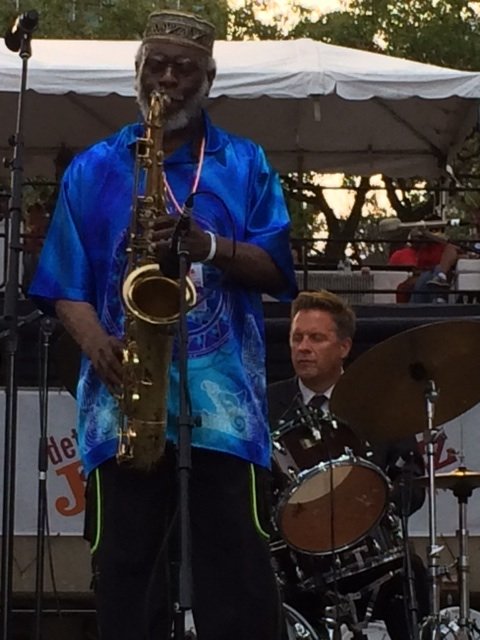 Detroit Jazz Festival, no fillers
By RON SCOTT
Rain, the demon of outdoor jazz festivals, spread its hysterical tears over the Detroit Jazz Festival last week, denying bassist Stanley Clarke and Dr. Lonnie Smith's octet the opportunity to close the festival on its Labor Day finale. The prior evening, that ignoring demon abruptly terminated a most rousing performance "To Miles From Wayne," with Wallace Roney and orchestra, featuring Wayne Shorter's (two largest works) "Universe" (1967) and "Legend" (1968-69).
Outstanding festival highlights included the Jimmy Wilkins Homecoming Band playing the music of Ernie Wilkins (his deceased brother, composer and arranger).
Wilkins, the 93-year-old trombonist and veteran bandleader stated, "I am honored to return home and conduct this great Detroit Jazz Festival Orchestra, and to have my hometown friends, Regina Carter, Barry Harris and Tim Ries, as guests is very special." Detroit vocalists Ursula Walker and Joan Crawford were also featured.


During Wilkins' two years with the Count Basie Orchestra, he learned "the band has got to swing." In the Basie tradition, the orchestra took flight on an arrangement of "Sugar," with Crawford on an up-tempo version of "I Remember You" and with Walker on the ballad "It Shouldn't Happen to a Dream."
As a close friend and former member of Clark Terry's band, Wilkins sang Terry's signature song "Mumbles." The audience showed its love with a standing ovation.
"Nicholas Payton: Sketches of Miles & Gil" was an unforgettable moment in live jazz, featuring bassist Vicente Archer and drummer Bill Stewart, with the Detroit Jazz Festival Orchestra conducted by Norah Duncan IV. Payton's arrangement of the Miles Davis and Gil Evans collaboration on "Sketches of Spain" (Columbia 1960) is just as mystical with its rhythmic Latino swing, but his keyboards bring a fusion intensity.
On "Saeta," the religious march that starts with a drum roll leads to a superb muted trumpet solo by Payton, and he roars back on keyboards, with responses from bass and drums. Payton took to singing on "When I fall in Love."
Detroit's own Marcus Belgrave, along with fellow trumpeters and New Orleans natives, Nicholas Payton and Wendell Brunious, presented "Louis Armstrong's Musical Legacy" (featuring three generations of students mentored by Belgrave). Payton sang "I Want to Stay Right Here in New Orleans," and Belgrave added his gravelly vocals to "Ole Man Mose" and performed a burning duet with Brunious.
Pharoah Sanders, a saxophonist who is not seen enough, was mesmerizing with his rich distinctive tone. His "Naima" was soul-stirring. Hysteria hit when he played "The Creator Has a Master Plan," and "You've Got to Have Freedom." The band included pianist William Henderson, drummer Joe Farnsworth and bassist Nathaniel Reeves.
"Jazz Speaks for Life: Music Inspired by the Civil Rights Movement" featured saxophonist and 2014 Detroit Festival Artist-in-Residence Joshua Redman, with the Wayne State University Big Band, the Motown Legends Choir and special guest Marcus Belgrave in celebration of the 50th anniversary of the Civil Rights Act.
Belgrave had the perfect lead pitch for Wayne State, and once the choir went into "This Little Light of Mine," the jazz audience fell into a blazing amen sanctified moment.