Ethel L. Payne, 'First Lady of the Black Press'
9/18/2014, 3:17 p.m.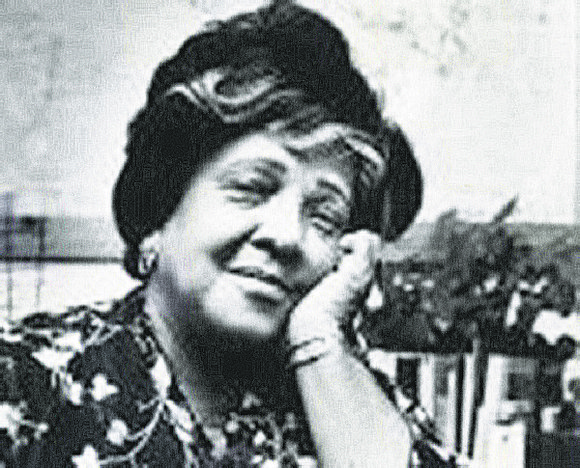 If I were wise when considering a profile of Ethel L. Payne, the pioneering journalist, for the "Classroom" column, I would relinquish the page to James McGrath Morris and reprint the entire article he did on her recently in the Washington Post. And the article there is just a teaser from the brilliant biography he has published on her remarkable life.
Payne, Morris notes in his article, was the "granddaughter of slaves and the daughter of a Pullman porter" who "rose to become the nation's preeminent Black female reporter of the civil rights era, chronicling the movement's seminal moments for a national Black readership hungry for stories that could not be found in the white media. From publicly challengingly President [Dwight] Eisenhower's commitment to desegregation in the 1950s to capturing the lives of Black troops in Vietnam in the 1960s, she became known simply as 'the First Lady of Black Press.'"
Born Ethel Lois Payne Aug. 14, 1911, she was the fifth or six child living in a strong, loving household in Chicago, where her writing skills were cultivated at an early age by her mother, a Latin teacher. There were also evening lessons in the Bible, where she and her siblings challenged each other in reciting chapter and verse. Payne's first dream was to be civil rights lawyer, but she was not accepted into law school, so she chose the next best thing.
Before settling into a journalism career, she attended Crane Junior College, Garrett Institute, and Northwestern University's Medill School of Journalism. Even so, there were several other stops before she arrived at the renowned Chicago Defender. In 1948, she was director of an Army club in Tokyo, where her journalism talents were discovered. "She had been keeping a journal about her observations during her stay in Japan. After a Chicago Defender reporter visited her, she gave him permission to take the journal back to Chicago. Known for voicing issues in the Black community that were not explored by white papers, the Defender ran excerpts of Payne's diary on its front page. Though the excerpts of her diary, which told stories of Black troops stationed in Japan, did not sit well with the United States military, her reports led to a job offer with the Defender," according to a website devoted to her life.
In 1951, as a reporter for the Defender, Payne joined the ranks of famous writers, including Willard Motley, Gwendolyn Brooks and Langston Hughes, whose bylines also appeared in the paper. Payne also completed her degree from Medill School of Journalism at Northwestern University after accepting the position with the Defender. Within weeks, she was covering investigative stories.
Given the thoroughness and insight of her stories, she was soon sent to the capital to act as the paper's Washington, D.C., bureau correspondent. The Civil Rights Movement was just beginning to gather full steam, and Payne was strategically placed to chronicle historic, national events and measures that arose in and around Capitol Hill. "Among the first incidents to gain national attention for Payne was an encounter with Dwight D. Eisenhower at a press conference in 1954. Following the Interstate Commerce Commission's decision to end segregation practices on interstate highways, Payne asked Eisenhower about his plans to initiate the commission's decision. Eisenhower met her question with a degree of animosity, and informed her that his intent was to be fair, but he would not cater to special interest," her website reported. This was the beginning of an acrimonious relationship between her and the president.