Talking SCHOP! Be sweet in September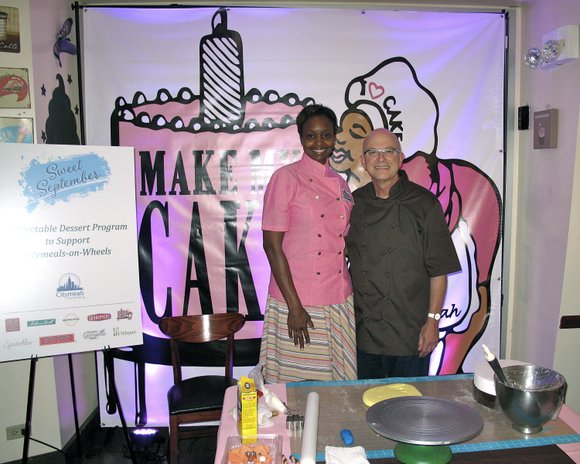 Monday, Sept. 8, former White House Executive Pastry Chef Bill Yosses and Harlem's own Aliyyah Baylor, co-owner of Make My Cake, taught a dynamic cake decorating class at Make My Cake (@MakeMyCakeNY) to help launch "Sweet September," a fundraising initiative supporting Citymeals-on-Wheels (@CityMeals). Citymeals is a nonprofit organization that prepares and delivers more than 2 million weekend, holiday and emergency meals each year for homebound elderly New Yorkers.
From now until Sept. 21, "Sweet September" participating restaurants and shops will donate at least $1 to Citymeals for each "Sweet September" menu item sold. The lot includes Aureole, DBGB (offering a special sundae), Michael Jordan's the Steak House NYC, Rotisserie Georgette, Schnipper Restaurants (all of their milkshakes), Sprinkles Cupcakes, Cookies and Ice Cream, Telepan and Tribeca Grill.
Here in Harlem, Make My Cake is supporting Citymeals with all of their items that have "sweet" in the name. These items include everything to do with the sweet potato—cheesecake, pie, cupcakes, and their soon-to-be famous ice cream. If you love a sweet potato sweet, then put your money to a good use (feeding your mouth) for a good cause (feeding other people).
Beth Shapiro, executive director of Citymeals-on-Wheels, said, "[Citymeals] has always had a deep support from the chef and restaurant community throughout New York City … ['Sweet September'] gives restaurants an opportunity to say they are supporting us, us an opportunity to thank these restaurants [and] drive people to these restaurants for bigger purchases. It supports everyone."
Yosses and Baylor transformed cakes into works of art in this interactive workshop for inquisitive bakers. Yosses began with a primer on handling fondant and the subtle nuances of the material. Baylor continued with her rapid and modern butter cream design handwork, while telling stories of developing her style under her mother's watchful eyes.
After the masterful lessons and with new knowledge, guests sat down to decorate their own cakes, while Yosses and Baylor offered help, guidance and encouragement. It was a hands-on type of affair.
Citymeals relies on the generosity of sponsors, its board of directors, the city of New York and other designated gifts to cover administrative costs. This arrangement ensures that 100 percent of all public donations go directly to the preparation and delivery of meals. Please visit www.citymeals.org to uncover more ways you can help, donate and give back to your community.
Happy "sweet" eating and thanks for reading!
Kysha Harris is a food writer, culinary producer, consultant and owner of SCHOP!, a personalized food service offering weekly and in-home entertaining packages. Questions? Comments? Requests? Feedback? Invitations? Email her at kysha@iSCHOP.com, follow her on Twitter and Instagram @SCHOPgirl and on Facebook www.facebook.com/SCHOPnyc. For even more recipes, tips and food musings, subscribe to her blog at www.talkingSCHOP.wordpress.com.