Very Threadgill, Bebo Valdes exhibit, Haynes and McBride reviews
9/25/2014, 2:29 p.m.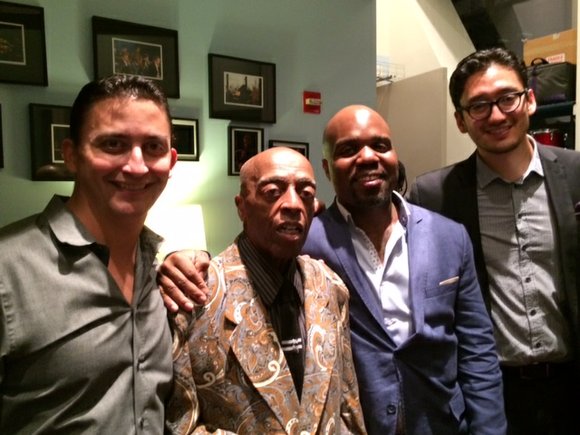 Saxophonist-composer Henry Threadgill has been a significant member of the avant-garde movement. However, if one is to avoid such categories, then it is clear that Threadgill is an innovator, who, over the past four decades, has created his own distinctive sounds and concepts, adding another influential voice to the jazz choir.
Threadgill fans and those who just like the thrill of reading an Octavia E. Butler novel will appreciate "Very Very Threadgill: Celebrating the Genius of Henry Threadgill," a two-day festival of music taking place Sept. 27-28 at the Harlem Stage Gatehouse, 150 Convent Ave. at 135th Street. The festival is curated by a younger, spirited explorer, the pianist and composer Jason Moran.

Over the years, Threadgill has led a variety of ensembles, including the trio Air with Fred Hopkins and Steve McCall, the seven-piece Sextett, Very Very Circus, the 20-piece Society Situation Dance Band and his current group, Zooid.
For these two days, Moran and Threadgill have enlisted artists from these groups and others, including Henry Grimes, Craig Harris, Darius Jones, Graham Haynes, Frank Lacy, Greg Osby, Pyeng Threadgill, Linda Oh, J.T. Lewis, Antoine Roney, Tyshawn Sorrey and Fay Victor.
Sept. 27 at 7 p.m., Cassandra Wilson joins the Harriet Tubman Band as a special guest vocalist. Air and Sextett will also perform. Sept. 28, "Dig Deeper," a free event, begins at 3 p.m., featuring a conversation with Threadgill and Moran moderated by Brent Edwards, co-author of an upcoming memoir about Threadgill. Threadgill's chamber ensembles will include Very Very Circus and end with a dance party featuring Society Situation Dance Band.
Consistently looking to expand the jazz perimeters, Threadgill used rare instrumentation for Very Very Circus by implementing two tubas, two electric guitars, a trombone or French horn and drums. He also variated with violins, accordion, and Latin percussion, thus the group's name was "very, very" apropos.
Tickets for each night are $35, and $60 for both days. For a complete listing and information, visit HarlemStage.org.
Bebo Valdes is known as the father of Afro-Cuban jazz. He was part of the first generation in Cuba to grow up under the influence of jazz. The current exhibit "Bebo Valdes Giant of Cuban Music," running at the National Jazz Museum in Harlem (104 E. 126th St.), pays tribute to this pianist and arranger.
Valdes passed away last year on March 22 at the age of 94. In Cuba, he was the pianist and arranger for the Tropicana Club Orchestra. He later led his own orchestra, Sabor de Cuba Orquesta, at the Tropicana, backing such American musicians as Sarah Vaughan, Roy Haynes, Nat King Cole and Stan Getz.
In 1960, Valdes defected from Cuba to Mexico, then lived briefly in the United States before settling in Stockholm, where he died. His last recording was with his son Chucho Valdes, "Bebo y Chucho Valdes: Juntos Para Siempre" ("Together Forever"). The album won a Grammy Award for Best Latin Jazz Album in 2010.
Sept. 30, the exhibit will present "Jazz for Curious Listeners," with the theme of "Bebo's Greatest Student: Chucho Valdes." This session looks at the career of Chucho Valdes, who, like his father, became an influential pianist carrying the tradition of Cuban and Afro-Cuban music around the world. The event takes place at 7 p.m. and is free to the public. The exhibit can be seen weekdays, 10 a.m. to 4 p.m.