Very Threadgill, Bebo Valdes exhibit, Haynes and McBride reviews
9/25/2014, 2:29 p.m.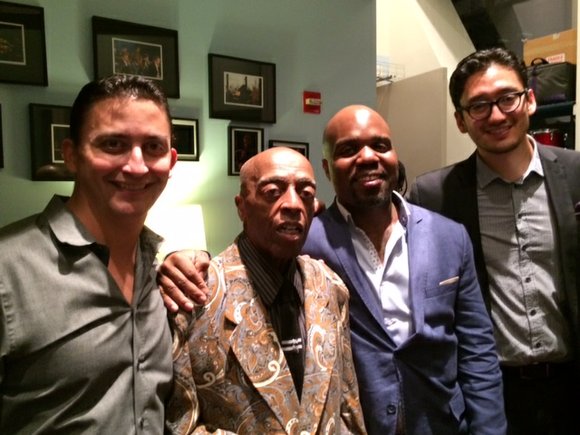 At age 89, the drummer Roy Haynes has not lost that snap, crackle and pop that became his trademark over the past seven decades. Dizzy's Club Coca Cola was packed during his recent engagement with his trusted band the Fountain of Youth, featuring pianist Martin Bejerano, saxophonist Jaleel Shaw and bassist David Wong.
On the tune "Green Chimneys," Haynes took an extended solo on the high hat. One could hear a pin drop as the master worked his magic on the cymbals. "Roy puts a fire under us every night," said Shaw. "With him, we always have to be ready."
After playing together for years, the band is an intuitive, swinging force, never missing a beat. Haynes offered some background information on his days playing with Sarah Vaughan, as well as showing off a few of his tap dance moves.
Haynes arrived in New York in 1942 on a one-way ticket from Boston, sent to him by Luis Russell, the big band leader, who was waiting for Haynes at the Savoy Ballroom in Harlem. Max Roach, upon leaving Charlie Parker's band, told him "get Roy Haynes."
The drummer has played with everybody from Lester Young to Miles Davis, Bud Powell, Chick Corea, Sarah Vaughan (1953-1958), Dizzy Gillespie, Pat Metheny, Gary Burton, Miles Davis, Thelonious Monk, Oliver Nelson, Alice Coltrane, Jackie McLean, Sonny Rollins, Dave Brubeck and Archie Shepp.
As a leader, he formed a trio with pianist Danilo Perez and bassist John Pattitucci. He also formed the group Birds of a Feather: A Tribute to Charlie Parker, with Roy Hargrove, Dave Holland and Kenny Garrett.
The New York Columbia University radio station WKCR-FM broadcasted various conversations and configurations that Haynes had played in during his career, which covered 301 hours of programming. The Christian McBride Trio, with pianist Christian Sands and drummer Ulysses Owens Jr., is one of the best swinging jazz trios on today's set.
Sands, a protege of Dr. Billy Taylor, got loose on "Day By Day." The trio's arrangements took the tune in a new direction, restructuring it with cascading piano melodies. As Owens' brush work entered the conversation, McBride rode on top with deep, rolling chords.
Under McBride's arrangement, the Latin-tinged "Caravan" took on a ferocious tone, as it was given a 2014 conversion, complete with a monstrous piano, roaring drums and rapid bass lines. Gillespie and Blakey would have been proud of their young predecessors.
"I call him my American Express card because I don't leave home without him," stated McBride during his introduction of Owens. This trio has been together for four years, and this was their debut engagement at Manhattan's Birdland. This trio revitalizes well-traveled tunes with an intense vigor that moves with uninhibited freedom.
"My Favorite Things" opened with a soft piano, as everyone gradually upped the speed limit, going off in improvisational solos before returning to the bridge and closing on soft shoulders. McBride is an exploratory musician who keeps his musicians inspired to cook.