City agency sponsors annual 'Dads Take Your Child to School' celebration
Eulene Inniss | 9/26/2014, 11:05 a.m.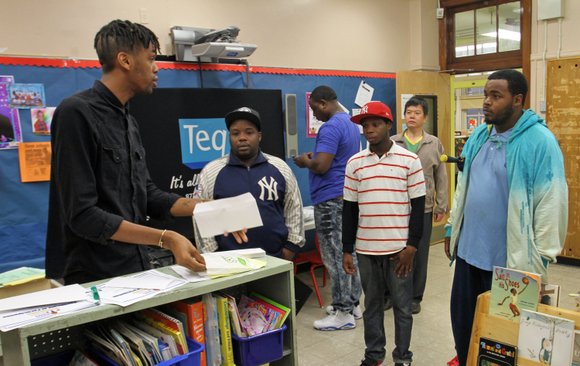 Special to the AmNews
The Department of Youth and Community Development, in conjunction with Healthfirst, Scholastic Classroom and Community Group and others, sponsored the eighth annual "Dads Take Your Child to School" rally and walk in Fort Greene, Brooklyn, Tuesday, Sept. 16.
Mingling with the raindrops, students and dads from four community District 13 schools walked and rallied as a way of recognizing DYCD's engagement with parents who participate in the fatherhood initiative. This project helps fathers and children reconnect while providing emotional and financial support. The celebration featured students and families walking from University Settlement's Ingersoll Cornerstone Community Center to area schools P.S. 20, Fort Greene Preparatory Academy P.S. 46, Dr. Susan Maria McKinney JHS 265 and P.S. 67 Charles A. Dorsey.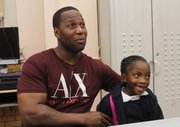 Showering these community fathers with praise was a gesture long overdue. They beamed with joy and, in turn, enveloped their children with the love and protection needed yet so often missing.
Knowing the history of JHS 265 and P.S. 67 helped clarify the possibilities of what they and their children could become, for these two schools were named after great African-Americans. Susan McKinney was the third African-American woman to earn a medical degree. She was born in Crown Heights, Brooklyn, received her medical degree from the New York Medical College for women in 1869 and was the school's valedictorian
Grace Solomon, the new principal of P.S. 67 Charles A. Dorsey, brought out the welcome mat for the fathers and their children. The parent coordinator, presented each dad with a certificate and gift card as a token of appreciation and encouragement.
Father Shanon Williams said he was proud of P.S. 67. "My mother went to school here, I was born in the former Cumberland Hospital, right across the street, and now my daughter, Miyaree Williams, is in second grade here. She is the third generation!"
Slavery ended in New York in 1827, and the Black community opened the Charles Dorsey school as the first independent Black school. The school attracted numerous distinguished educators, many of whom were women, and according to the school's visitor's book, now held at the Schomburg Center for Research in Black Culture, Booker T, Washington visited in 1893.
When the Board of Education took control of the city public schools, the school was renamed Colored School No. 1, and today, Solomon is on a mission to have P.S. 67 become the best school in the district. She brings a wealth of educational knowledge and expertise to the school. Her career started in Massachusetts, her native state, continued to bloom in Toronto and blossomed in New York City. She is excited about her new position in Brooklyn. She believes that "the quality of the staff and eagerness of the parents will allow the focus to be on an integrated, literacy-based curriculum."