Dr. Ben's colleagues reflect on his legacy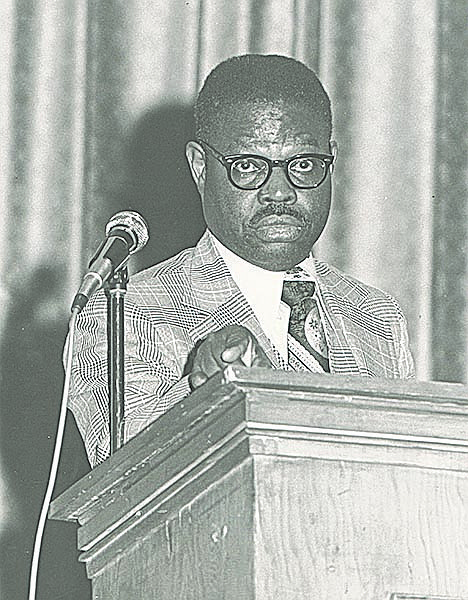 It's on record that Jochannan has faced the best scholars the Western world had to offer. "He's never lost a debate regarding Kemet … that's a helluva thing to say," insisted Sekou. "He used to go up into synagogues and debate people by himself."
Minister Clemson Brown, founder of TAP Video, mentioned meeting Jochannan in 1978 and said he's editing a documentary about him.
"He took more than 30,000 African-Americans to Egypt, back to our ancestral homeland to see, feel and touch the truth for themselves," said Brown. "That truth is so critical that it gives us a mirror for us to see ourselves. It's so profound that it completely revolutionizes our thinking and raises our consciousness to the point that we again know who we are through the historical artifacts, temples, pyramids that we built thousands of years ago."
Jochannan often emphasized the indigenous Africans who populated the land before the Arab and European invasions, as well as other great African civilizations that preceded them. He revealed that the motherland's pre-colonial name is "Alkebulan," and also uncovered the original names of many cities that had been replaced with Asiatic or Greco-Roman ones.
"We're indebted to Dr. Ben because he has given us the gift that keeps on given," contends Dr. Leonard Jeffries. "And we are blessed to have been in his life and by his side. He's been an extraordinary inspiration for all of us. He developed his sacred mission to deliver Nile Valley civilization and culture to Black people."
Nana Camille Yarbrough remembered meeting Jochannan while she was a co-host with Gary Byrd at WLIB, when it broadcasted from the Apollo Theater during the early 1980s.
"Dr. Ben was a gift to us from our ancestors and the creator," Yarbrough said. "He let us know our greatness … not beginning as enslaved people, but beginning as creators of thought. That changed our viewpoint, the energy of our people. He took us way back and said, 'No, let's go back to our origin, the beginning. He talked about our great achievements, the creativity coming out of Ethiopia, Kemet, the Sudan … all of that which we had created … the concepts of religion, sciences."
Small spoke about the psychological effects Jochannan's works have had globally.
"He gave us one of the biggest pieces of the pie," suggested Small. "By restoring Kemet back to the African consciousness, the African mind, he has restored the foundation of African civilizations and world civilizations, back in the hands of Black people. He's our Imhotep. He was a Black man deserving of the greatest honor the Black community can give."
"Religion is the enemy of Black people!" Jochannan once asserted. His legacy will eternally be tied to Kemet and dispelling Western religions. He has defeated some of Western civilizations' top intellectuals, as witnessed on Gil Noble's "Like It Is," and in DVDs such as "Who Are the Chosen People?"
Oyewole concluded, "We all appreciate him for what he was, what he offered and the contribution he gave us. I am just grateful that the man was here for 97 years and did major, major work, and consequently Dr. Ben will last as long as the pyramids that he talked about."
Services are scheduled for Thursday, April 9, 4 p.m. to 8 p.m. and Friday, April 10, 9 a.m. to noon, both at Abyssinian Baptist Church, 132 W. 138th St.