For the love of travel (guides)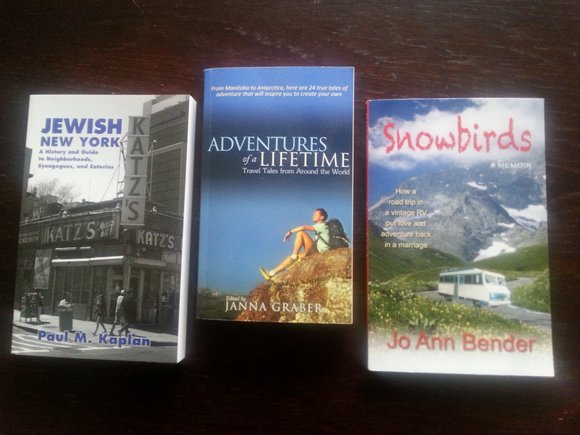 "Snowbirds" is available at www.amazon.com/Snowbirds-Road-Vintage-Adventure-Marriage-ebook/dp/B00OYWGN6A
"JEWISH NEW YORK"
When I travel, I'm always interested in delving into the diversity of every, as they say, "race, color and creed" that comprises the cultural landscape, both past and present. In New York City, a metropolis of more than 8 million people, whether a resident or visitor, one will find a rich, delicious amalgamation of peoples that infuse every nook and cranny with their own distinctive history, music, gastronomy, religious practices, family structures and so forth.
"Jewish New York: A History and Guide to Neighborhoods, Synagogues and Eateries" by Paul Kaplan has been described as an indispensable travel guide that combines historical perspective and an informative timeline of Jewish immigration with the customary "what to see, do and eat"-type itineraries of a guidebook.
Where the book excels is that for each historic place of Jewish interest in Lower Manhattan, the Lower East Side, Greenwich Village, the East Village, Chelsea, Midtown, the Upper East Side, the Upper West Side, Harlem and Morningside Heights and Washington Heights, Kaplan peppers it with unique insights and historical context that offer the reader much more of a personal "feel of the day" behind the various temples, museums, theaters, cemeteries, synagogues, archives and more that he explores. To learn more, go to www.paulkaplanauthor.com.
"ADVENTURES OF A LIFETIME"
"Adventure can mean so many things. For some, adventure is climbing the peaks of Tibet, sailing the open seas or cycling through Europe. For others, it means conquering a fear or pushing yourself to a whole new level. And for many, adventure means bravely stepping into the unknown of a new culture, language or setting. At its core, adventure travel means pushing yourself to experience something novel and worthwhile."
That's the introduction I received for "Adventures of a Lifetime: Travel Tales From Around the World." Edited by award-winning travel journalist Janna Graber, the book is a collection of true, hair-raising, unexpected, hilarious and inspiring stories from 20 top international travel writers whose wanderlust has taken them literally to every corner of the globe.
From stepping foot in Antarctica among icebergs and penguins, to getting chased by monkeys in the forest of Indonesia, watching over your back for hippos on a Ugandan safari and playing a game of naked Frisbee with a tribe in New Guinea and everything in between, the reader is immersed in the true meaning of adventure travel, that is, says the author, "never really knowing what you will find—or what will find you." To learn more, go to http://worldtravelerpress.com/dd-product/adventures-of-lifetime.
Lysa Allman Baldwin is a freelance writer and the publisher and editor of Amazing Escapades, offering "adventures for the mind, bod and belly" (www.amazingescapades.com).