Communities searching for solutions to gun violence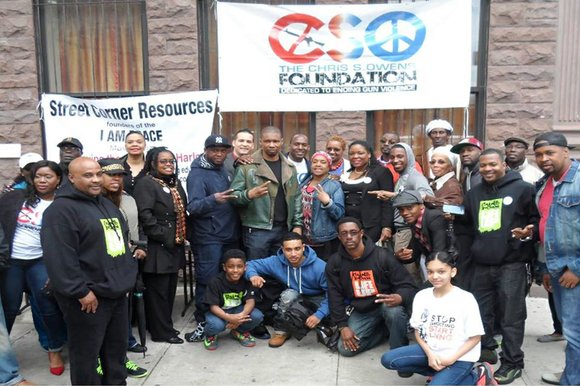 Bloody sidewalks and yellow crime scene tape must not be the most prominent images of summer 2015. Police and ambulance sirens cannot be the soundtrack. Bullet markers and wailing residents are already the go-to scene for primetime news.
This past weekend, with the last strains of a harsh winter replaced by rising temperatures, gunshots rang out in three New York boroughs: Brooklyn, the Bronx and Manhattan.
The Police Department classifies the weekend as Thursday midnight to Sunday midnight, and in that 72-hour span from Thursday, April 16 to Sunday, April 19, 21 shootings left three people dead and 23 people wounded.
Friday morning, Dawan Turner, 24, was shot in the head as he sat in a car, in Brooklyn's hard 75th Precinct. On the same day, in what is described as a "revenge killing," Dontea Bascom, 16, was shot dead, and his 13-year-old cousin injured, in Bed-Stuy's Marcy Houses. With shots to the stomach and head, Steven McKoy, 30, was murdered in East New York Sunday. Saturday saw 10 shootings, with a 16-year-old boy shot in the leg in East New York and three people hit as bullets flew at the Castle Hill Houses in the Bronx. Sunday, six shootings in the Bronx, Harlem and Brooklyn left several males aged 19 to 40 wounded.
A trauma nurse at a Brooklyn hospital told the AmNews, "I am seeing these shootings every week. It is getting worse." Saying that she had worked in the operating room on some of the recently publicized cases, she added, "One young man died in my arms. It is bad. These are all children. It is crazy, and it is tragic. It is awful. Kids. It is crazy, and it is every weekend. If it is not gunshot wounds, it is multiple stab wounds. If you saw the OR when we were done, you wouldn't believe it. There is just so much blood. It is bad."
Brooklyn DA Ken Thompson, while noting that violent crime in Brooklyn is down, pulled no punches when he told the AmNews, "As Brooklyn DA, I'm not only determined to go after the violent criminals who are committing these shootings but also those who are flooding our streets with all of these guns."
Dozens of Brooklynites heeded the call and turned out Tuesday night, April 21, when groups such as the Brooklyn Anti-Violence Coalition, Rediscovering Lost Values and Stand and Deliver held a "Call to Duty" rally at the corner of Marcy and Myrtle avenues at the Marcy Houses development.
Speaking from the Tuesday night rally, activist Umar Johnson said to the AmNews, "This is all about who we are and first being accountable for and to ourselves, then holding responsible those whom we trust to protect and defend our village. This is not about the haves and the have-nots. Sad to say, soon and very soon I see myself preaching the obituary of Bedford-Stuyvesant as we knew it—once the most progressive Black village on the East Coast. Why the issues that are plaguing this side of Bed-Stuy less important to the Community Board 3 than the Brownstoners south of Gates Avenue? Major construction, home owners being harassed, children being deprived of wholesome safe haven—a place to be when all around them is death and destruction."