Communities searching for solutions to gun violence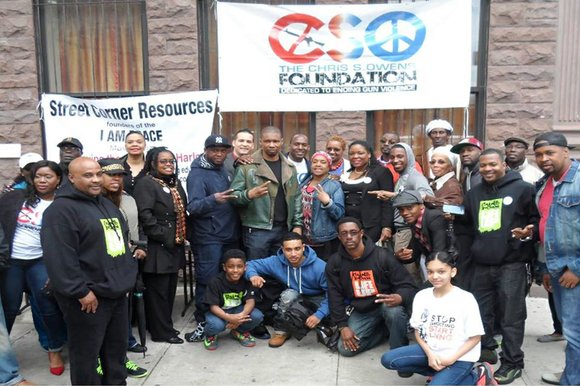 Johnson told the AmNews that such a safe haven has been established in the Marcy Houses, where young people will be able to come in and relax and be safe. He added that there will be more rallies and community conversations to announce details.
Steve Davis, NYPD deputy commissioner of Public Information, told the AmNews that although the shootings were disturbing and tragic, the number wasn't unusual. In 2012, for example, during the first weekend of summer, there were 33 shootings. Davis said that he is "familiar with how violence is tracked and investigated, and while the shootings this weekend were notable, spikes do occur. The numbers go up and down."
He explained, "One week there may be 10 shootings, the next week there may be 21. Last Tuesday, the numbers compared to last year were flat. Shootings were even, but now they are up 3.75 percent. Overall crime as of today is down 8.5 percent citywide. So we have 21 shootings and it gets people's attention, and it should, but I have the luxury of looking at it historically. There were 277 shootings citywide for the year to date. Last year we had 267, and year before we had 290. Historically we have had 400 in one year."
Davis added, "A significant number of these shootings are 'gang' or crew related. Much of this violence is turf related, not even like in the old days when it was about people infringing on businesses. Most violence is senseless, but this is particularly so because people are willing to take lives over stepping on the wrong side of the street."
Davis said the shootings are all currently under investigation. Although they are suspected to be crew or gang related, police are not ruling out criminal and drug activity. He encourages what he calls "community partnerships" and said, that in challenging the gun violence, "The community is very active, and we know the crews involved, and we have already made inroads. So we have to focus on resources, reaching out to our community partners and sources of information."

Davis said that along with a summer anti-violence initiative, the NYPD now uses "predictive policing." "So now if we see that during the weekends there is an uptick in violence," he noted, "we can deploy more officers in an area."
However, Davis bemoaned the current lack of community cooperation, even among victims on occasion. "Last year, 30 to 35 percent of victims refused to cooperate," he said. "There is a question of fear, or defiance, or gang mentality. But it it is something of a phenomenon that I didn't experience the '80s."
The AmNews pointed out that police-community relations are currently dire, and there is a lack of trust and a high level of frustration because rogue cops are not held accountable.
Davis said he understood, and "warranted or not, under Commissioner [Bill] Bratton, we are trying to establish the trust factor." He added, "But if we are at a point where we can't get you to help us solve a crime in your neighborhood, that's really bad. But by and large, we are a lot safer now than we have been."